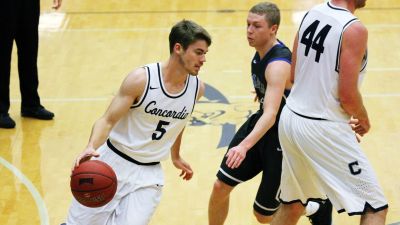 SIOUX CITY, Iowa – The Concordia University men's basketball team is not afraid of a shootout. In another clash with a top-25 foe, the Bulldogs traded blows with 23rd-ranked Morningside before coming up short in a 92-88 meat grinder in Sioux City, Iowa. Concordia has yet to get over the hump on the road.
Fourth-year head coach Ben Limback's squad slipped to 7-5 overall and to 2-4 in conference play. The Bulldogs had hoped to stack back-to-back victories over ranked opponents after having upset No. 10 Dakota Wesleyan inside Walz Arena last week.
"We certainly had our chances," Limback said. "Ryan Tegtmeier had a great game for them. I thought he did some great things to take over the game late in the second half. There were some key moments where we got some stops at the end and put ourselves in a positions to make some plays. We had a couple turnovers down the stretch that really hurt us. You just can't do that on the road in the GPAC."
Both teams shot 50 percent or better in an entertaining contest in which neither team led by more than seven points during the entire second half. Concordia owned an advantage as late as the 7:58 mark and hung tight the rest of the way. Tegtmeier was a thorn in the Bulldogs' side all night. During one stretch in the second half when the Mustangs grew their lead to 81-74, Tegtmeier scored 10 points in a 12-5 Morningside run. The senior guard from Davenport, Neb., then iced the game with two free throws in the final seconds.
On the other end of the floor, Concordia's offensive efficiency continued. Eli Ziegler sizzled in the first half before tossing the baton to Chandler Folkerts in the second. Ziegler poured in 19 of his team high 22 points over the game's first 20 minutes. Folkerts then went to work, piling up 17 of his 19 points in the second half. The senior post man notched a double-double (10 rebounds).
The Bulldogs tripped up despite going 31-for-59 (.525) from the floor and 14-for-31 (.452) from 3-point range. Ziegler knocked in 6-of-11 shots from downtown and freshman Tanner Shuck stayed hot, nailing 4-of-9 attempts from long range. Shuck (14) and Chris Johnstone (12) joined Folkerts and Ziegler in double figures.
Offense was no problem. However, slowing down Morningside was an issue. The Mustangs shot 50 percent (34-for-68) from the field and 90 percent (18-for-20) from the foul line.
"We allowed them to get into the paint a little too much and they were in the bonus with about 11 minutes left in the second half," Limback said. "It's hard to do that on the road. We tried to go with some zone and shake it up. Then Tegtmeier hits a couple threes on us.
"We'll bounce back. These guys are tough."
On Wednesday Folkerts moved up to No. 5 on the program's all-time scoring list by passing Rick Dietze (1,625). Folkerts now has 1,628 career points.
In addition to big play from Tegtmeier, Morningside (9-3, 3-2 GPAC) got solid nights from Alex Borchers (18 points) and Bryce Koch (17 points, 13 rebounds).
The Bulldogs will attempt to extend a nine-game home winning streak on Saturday when sixth-ranked Northwestern (13-1, 6-0 GPAC) rolls into town. Tipoff as slated for 4 p.m. CT inside Walz Arena. In this season's first matchup, the Red Raiders held off Concordia, 89-87, in Orange City behind star guard Colton Kooima. The Bulldogs swept the 2015-16 season series from Northwestern.