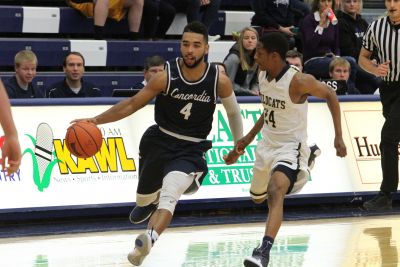 Bulldogs open season Friday evening at York College
The Concordia University men's basketball team opens the 2010-11 season Friday evening against York College. The Bulldogs return three starters and seven letter winners from last year's squad that went 18-12 overall with a 12-6 record in the Great Plains Athletic Conference.
The Bulldogs will be led inside by Sam Huebner and Porter Birtell. Huebner (Aurora, Colo.) was an honorable mention All-GPAC performer last season in his junior year. He led the team in both scoring (12 points per game) and rebounding (8.2 rebounds per game). Birtell (Madison, Neb.) earned Second Team All-GPAC honors a year ago in his freshman season. He averaged 11.6 points per game and 7.4 rebounds per game to rank second on the team in both categories. For the season, he was 116-of-201 from the field for a team-best 57.7 percent. His 84 offensive rebounds also led the team.
Ryan Shrum, Brent Houchin and Andy Banahan will also add size and depth inside this season for the Bulldogs. Shrum (Allen, Tex.) appeared in 28 games last year and should contend for a starting spot. The 6'7" forward is one of the top shooters on the team and should cause matchup problems for opponents during his senior year. Houchin (Bruning, Neb.) appeared in 25 games last year with one start during his freshman season. He averaged just over four points and just over two rebounds per game last year. Banahan (Steele City, Neb.) appeared in 17 games with one start last year during his junior season.
At the guard position, Tyler Byrd (Bennington, Neb.) returns for his junior year following an impressive sophomore campaign. He was an honorable mention All-Conference performer last year after averaging 11.4 points and 3.2 rebounds per game. He led the team in minutes played and totaled a team-high 91 assists. He hit 59 3-pointers and added 20 steals on the season. Sophomore Phil Friedrich will also vie for playing time in the Concordia backcourt. Friedrich (Seward, Neb.) appeared in 10 games last year for the Bulldogs.
"Our experience and balance at all positions will be the strength of our team this year," said Grant Schmidt, head coach of the Bulldogs. "I expect we will have different people have big nights for us throughout the year. The starting five could be stronger than last year's squad due to experience, and our returners are all improved as players this year."
Two transfers join the mix this season and should make an immediate impact. Juniors Barrett Braun and Harvey "TJ" Todd will compete for starting spots for Concordia this year. Braun (Lakeside, Calif.), a 6'5" wing from Cuyamaca College, will be a tough cover for opposing teams. He was an honorable mention Pacific Coast Conference selection this past season after he posted averages of 9.7 points and 3.6 rebounds per game. Todd (Seaside, Calif.) will be eligible at semester and should provide a huge spark offensively and defensively for the Bulldogs. He was a Coast Conference first-team selection in 2010 at Monterey Peninsula College and averaged 13.6 points per game and 1.8 assists per game last year.
Freshman Adam Vogt (Syracuse, Neb.) has impressed the Bulldog coaching staff so far. He will look to add depth at the guard position and give the Bulldogs another weapon at the point guard position.
In regards to challenges facing the Bulldogs this season, Coach Schmidt pointed at three primary things; consistent scoring, injuries and foul trouble. "We struggled with being stagnant offensively at times last year," noted Schmidt. "We need to be better at penetrating the lane area with either entry passes or dribble attack, and hopefully we should be able to attack the basket much better this year."
"Our depth is not as solid as it was at this time last year," added Schmidt. "The key will be our health and staying away from foul trouble. We'll need our guys to be ready every game. Our bench players will need to be ready as well. They will be in the position to support and play key roles, so their confidence and ability to stay focused will be critical."
Concordia will look to put together a complete season in 2010-11. The Bulldogs got off to a solid start last year and put together a nine-game winning streak at one point of the season. However, Concordia struggled down the stretch and lost six of its last seven games to end the season. Coach Schmidt hopes a complete and consistent season is on the horizon.
"The key will be how we handle the challenge of traveling to Michigan for the CIT and then returning to compete on the road in critical GPAC games in February," said Schmidt. "That killed us last year, and we have to be better this year. The chemistry and experience of the guys we have playing is very exciting to see, and I am optimistic that we can peak in February and have a very successful season."