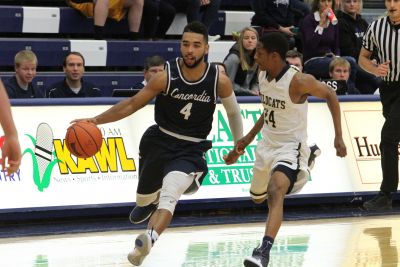 Bulldogs in need of win, host Dakota Wesleyan Saturday
Following a disappointing few weeks, the Bulldog men's basketball team is in need of a win. They'll get a chance to end their recent losing streak with a home game Saturday against Dakota Wesleyan. Tip is scheduled for 4 p.m. at the Walz Human Performance Complex.
Since a big 94-75 win on the road at Northwestern, Concordia has dropped four straight. The last two losses have come by 20+ points. In both games, things really got away from the Bulldogs in the second half. Concordia has struggled offensively in each of the last few losses. In Wednesday's loss to Midland, Concordia scored a season-low 46 points. Barrett Braun was the only Bulldog to reach double figures. Concordia totaled 20 turnovers and went just 16-of-53 overall from the field for 30.2 percent.
Last meeting – Porter Birtell scored 36 points to help Concordia to an 80-78 overtime win over DWU back in early December. Birtell was 11-of-15 from the field and 14-of-18 at the free throw line. The Tigers hurt themselves with poor free throw shooting. DWU was just 13-of-23 at the foul line in the close loss.
Scouting the Tigers – DWU brings a 12-9 overall record with a 4-7 conference mark into Saturday's contest. The Tigers have been strong on the road, however, posting a 7-3 road record so far this year. DWU picked up a 78-75 victory over Hastings College on January 15. Mike Lee and Jalen Voss have led the way offensively for the Tigers so far this year. Lee averages a team-best 14.3 points per game, while Voss adds 10.9 points per game for what has been a balanced DWU attack. A total of seven DWU players average at least six points per game.
Broadcast – The Concordia Sports Network will provide a live audio and video broadcast of Saturday's game between the Bulldogs and Tigers. Keegan Bloomfield will call the action from the Walz Complex.
Up next – Concordia hosts Doane College on January 25.