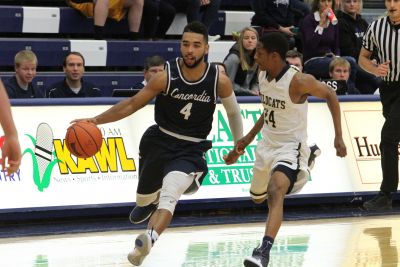 Bulldogs look for second straight win over ranked team, host #2 Dordt College on Saturday
The Concordia men's basketball team picked up a big win over Northwestern College earlier this week to improve to 8-7 overall (4-4 GPAC) on the year. The 94-75 victory over the 14th-ranked Red Raiders gave the Bulldogs some momentum heading into a Saturday matchup with NAIA 2nd-ranked Dordt College. Tip between the Bulldogs and Defenders is scheduled for 7 p.m. at the Walz Human Performance Complex.
The Bulldogs put together their best performance of the year on Wednesday evening. It was the first road win over Northwestern since the mid 1990's. Concordia got career nights from both Porter Birtell and Joel Haywood in the impressive victory. Birtell completely dominated the Raiders inside, scoring a career-high 37 points on a perfect 12-of-12 from the field. Haywood chipped in with 22 points, while Barret Braun hit four 3-pointers and scored 14 for the Bulldogs. Concordia shot 63 percent from the field in the opening half of play.
So far this season, Concordia is fourth in the GPAC in scoring offense (74.6 points per game) and ninth in scoring defense (74.3 points per game). Birtell has led the way offensively this season and currently ranks second in the GPAC with 18.4 points per game. Beau Smith is 12th in the conference in scoring with 12.9 points per game. Haywood also averages double figures with 10.5 points per game. The freshman from Colorado has picked up his scoring as of late. He had 17 points in a loss to Sterling College before delivering the 22 points against Northwestern on Wednesday.
Scouting the Defenders – Dordt College, ranked second in the latest NAIA Top 25 Poll, has been impressive all season long. The Defenders sit atop the GPAC standings with an 8-1 mark. Dordt brings an overall record of 16-1 into Saturday's clash with the Bulldogs. Dordt's only loss came at Briar Cliff (88-83) on December 17. The Defenders cruised to a 98-77 win over Hastings College earlier this week.
Dordt leads the GPAC with 85.8 points per game while ranking fifth in scoring defense, allowing 69.6 points per game. Offensively, Dordt also leads the conference in field goal percentage (53 percent) and 3-point field goal percentage (42.1 percent). Scoring balance is a key, as five Dordt players rank in the GPAC's top 30 in scoring. Trevor Wolterstorff scores a team-best 16.8 points per game to rank fifth in the GPAC. Jordan Vogel (12.8 ppg) and Cliff Warner (12.5 ppg) sit 13th and 14th, respectively, while Austin Katje (11.6 ppg) and Chris Sievers (10.2 ppg) also average double figures for the Defenders.
The Concordia Sports Network will provide a live audio and video webcast. Keegan Bloomfield will call the action from the Walz Complex.
Up Next – The Bulldogs travel to Hastings College (Jan. 11) and Morningside College (Jan. 14) next week.