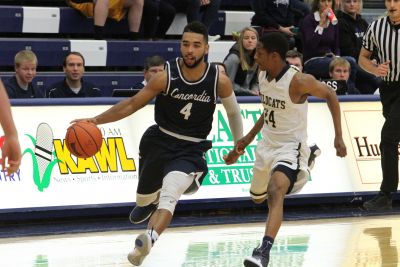 Bulldogs look to hault losing streak, host Midland on Wednesday
The Bulldog men's basketball team is in the midst of a 3-game losing streak. Concordia will look to get back on the winning track on Wednesday evening when they host Midland University. Tip is scheduled for 8 p.m. at the Walz Human Performance Complex.
Concordia dropped a pair of games last week to fall to 8-10 overall and 4-7 in conference play. Hastings College rallied in the closing seconds for a 69-68 win over the Bulldogs last Wednesday. Morningside College used a big second half to pull away for an 80-54 win over Concordia on Saturday. The 54 points scored tied for the second lowest scoring output in a game this year for the Bulldogs. Porter Birtell scored 18 points and grabbed 16 rebounds in the loss to Morningside. However, Birtell was the only Bulldog player in double figures.
Scouting the Warriors – Midland is 11-8 overall and 6-5 in the GPAC entering Wednesday's contest. The Warriors, who received votes in the latest NAIA Top 25 Poll, pulled off a big 76-71 upset win over then 2nd-ranked Dordt College on Saturday. Earlier last week, the Warriors fell just short (75-74) to then 21st-ranked Briar Cliff. The Warriors defeated Concordia by the score of 70-57 in a game played in Fremont earlier this season. Midland placed four players in double figures and shot 52 percent from the field in the win. The Warriors are led by Donal Jones' 11.6 points per game.
Webcast – Lucas Mohrman will call all the action, as the Concordia Sports Network will provide a live audio and video webcast of Wednesday evening's matchup.
Up next – Concordia hosts Dakota Wesleyan on Saturday at the Walz Human Performance Complex.