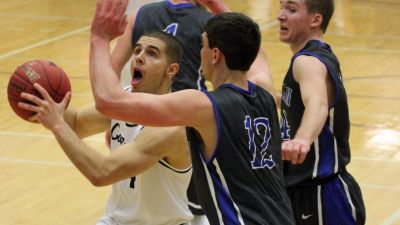 SEWARD, Neb. – The Concordia University men's basketball team enters this week with momentum fresh off home victories over Haskell Indian Nations University (Kan.) and No. 10 Dakota Wesleyan. Concordia is a perfect 6-0 at home. Now it will try to nail down its first true road win of the season in an important week of conference action.
Up next is a trip to the Rosen Verdoorn Sports Center for Wednesday's 8 p.m. CT contest at No. 23 Morningside (8-3, 2-2 GPAC). The Bulldogs will then put their nine-game home win streak on the line on Saturday when No. 6 Northwestern (12-1, 5-0 GPAC) visits Walz Arena for a 4 p.m. CT tipoff. Both games will be covered by 104.9 Max Country. Wednesday's webcast will be available HERE. Watch Saturday's game on the Concordia Sports Network.
Offensively, Concordia has been off the charts. Among all NAIA Division II teams, the Bulldogs rank second in field goal percentage (.526), fifth in 3-point field goal percentage (.429) and 11th in free throw percentage (.767). In last week's 104-72 win over Haskell, Concordia made each of its first six attempts from 3-point range. Three days later, it shot 62.5 percent (30-for-48) from the field while sending Dakota Wesleyan to its first GPAC defeat of the season.
Paced by Chandler Folkerts (19.3 ppg), the Bulldogs can score from inside and out. Folkerts now sits at No. 6 on the program's all-time scoring list with 1,609 career points. He could be as high as fourth by the end of the week as he closes in on fourth-place Devin Smith (1,659) and fifth-place Rick Dietze (1,625). Meanwhile, sharpshooting guard Eli Ziegler figures to become the 29th player in school history to reach 1,000 career points scored by the end of the season. He is averaging 16.4 points and shooting 45.9 percent from long range.
Folkerts and Ziegler are the primary scorers, but senior guard Seth Curran was billed by head coach Ben Limback as the "player of the game" in the victory over Dakota Wesleyan. He recorded career highs of 20 points and 11 assists. He's averaging a career high 9.4 points in his first season as a starter.
Morningside owns three victories over top 25 opponents: No. 10 Tabor College (Kan.), No. 14 Dakota State University and No. 24 Bellevue University. Bryce Koch tops the Mustangs with an average of 16.6 points per game. Three other Morningside players average double figures in scoring for a squd with GPAC wins over Mount Marty and Hastings.
Picked sixth in the GPAC preseason coaches' poll, Northwestern has been an early season surprise. The Red Raiders enter the week having won 12-straight games, including an 89-87 home victory over Concordia. Northwestern's Colton Kooima may be the early favorite for GPAC player of the year honors. He's averaging 25.4 points per game.
The final pre-Christmas game for the Bulldogs will be Friday, Dec. 16 at Dordt (6-7, 0-4 GPAC).
Projected lineups
Concordia: 7-4, 2-3 GPAC
G – Seth Curran: 9.4 ppg, 3.7 rpg, 3.5 rpg, .509 fg%
G – Chris Johnstone: 11.2 ppg, 2.8 rpg, .423 fg%, .935 ft%
G – Eli Ziegler: 16.4 ppg, 3.3 apg, .524 fg%, .459 3-pt FG%
F – Tanner Shuck: 8.5 ppg, 3.0 rpg, .589 fg%, .538 3-pt FG%
C – Chandler Folkerts: 19.3 ppg, 7.4 rpg, 1.6 bpg, .673 fg%
Morningside: 8-3, 2-2 GPAC
G – Alex Borchers: 7.8 ppg, 1.7 rpg, 1.0 spg, .462 fg%
G – Ryan Tegtmeier: 9.4 ppg, 4.5 rpg, .391 fg%
G – Pierce Almond: 10.1 ppg, 3.4 rpg, .409 fg%
G – Brody Egger: 16.0 ppg, 2.9 rpg, 2.0 apg, .458 fg%
C – Bryce Koch: 16.5 ppg, 7.5 rpg, 1.1 bpg, .615 fg%
Northwestern: 12-1, 5-0 GPAC
G – Nathan Wedel: 12.6 ppg, 6.1 rpg, 4.2 apg, .535 fg%
G – Colton Kooima: 25.4 ppg, 4.4 rpg, 3.2 apg, .482 fg%
G – Riley Francis: 11.2 ppg, 5.0 rpg, 2.8 rpg, .544 fg%
G – Chris Borchers: 4.0 ppg, 2.1 rpg, .489 fg%
F – Justin Van Kalsbeek: 6.5 ppg, 4.5 rpg, .682 fg%