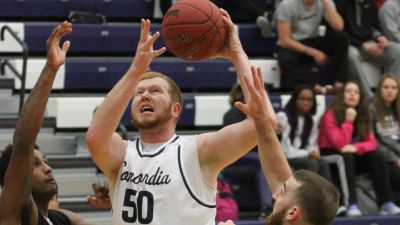 SEWARD, Neb. – Two sides separated by a single game in the league standings will go head-to-head inside Walz Arena on Saturday afternoon. The Concordia University men's basketball team is set to tip off the contest versus Morningside at 4 p.m. CT. The Mustangs won the first meeting, 92-88, in Sioux City, Iowa, on Dec. 7.
Saturday's game can be accessed live via the Concordia Sports Network and via 104.9 Max Country radio. Tyler Cavalli will serve as the play-by-play voice.
Due to the postponement of Sunday's scheduled game at Dakota Wesleyan, the Bulldogs have been idle since the 64-59 home loss to No. 19 Midland on Jan. 11. Concordia fell short of claiming another top-25 victim despite limiting the Warriors to 41.0 percent shooting. The Bulldogs were paced by the 17 points from Chris Johnstone, who made his return to the starting lineup. Senior Chandler Folkerts recorded a double-double, going for 16 points and 13 rebounds.
Concordia shot an uncharacteristically low 43.8 percent from the floor in last week's defeat. The Bulldogs have made offensive efficiency their calling card throughout most of this season. They enter the weekend ranked No. 1 nationally in field goal percentage (.526). Among all NAIA Division II teams, they also rank second in 3-point field goal percentage (.429), 10th in free throw percentage (.765), 15th in 3-point field goals per game (10.2) and 21st in scoring offense (87.9).
That scoring efficiency is a product of a quartet of prolific offensive players in The Chanimal (18.9 ppg, .682 FG%), Eli Ziegler (17.6 ppg, .468 3-pt FG%), Johnstone (11.1 ppg, .469 FG%) and Tanner Shuck (10.9 ppg, .505 3-pt FG%). Both Shuck (sixth) and Ziegler (18th) rank inside the top 20 nationally in 3-point field goal percentage. Additionally, Folkerts ranks third in field goal percentage. Folkerts appears at No. 4 on the program's all-time scoring list (1,756 points).
Morningside (15-6, 5-5 GPAC) has been ranked as high as 23rd in the national poll this season. The Mustangs pummeled Mount Marty, 125-74, on Wednesday night. Prior to this week's victory, Morningside had dropped consecutive games, falling at Briar Cliff and at home to Dordt. The brother of Bulldog freshman Riley Tegtmeier, Ryan Tegtmeier went off for 28 points in the Mustangs' win over Concordia earlier in the season. Like many GPAC teams, Morningside can score. It averages 85.7 points per game. The team's biggest star is 6-foot-6 senior Bryce Koch, who averages 17.0 points and 8.8 rebounds.
Next week will feature three games, including the 66th annual Concordia Invitational Tournament, which will be hosted in Seward on Jan. 27-28.
Projected lineups
Concordia: 12-7, 4-6 GPAC
G – Seth Curran: 7.7 ppg, 4.2 apg, 3.5 rpg, 1.0 spg, .416 fg%
G – Eli Ziegler: 17.6 ppg, 3.7 apg, 2.8 rpg, .510 fg%, .468 3-pt fg%
G – Chris Johnstone: 11.1 ppg, 2.9 rpg, 2.3 apg, .469 fg%, .400 3-pt fg%
F – Tanner Shuck: 10.9 ppg, 3.2 rpg, 1.9 apg, .523 fg%, .505 3-pt fg%
C – Chandler Folkerts: 18.9 ppg, 7.9 rpg, 1.9 apg, 1.5 bpg, .682 fg%

Morningside: 15-6, 5-5 GPAC
G – Ryan Tegtmeier: 9.9 ppg, 3.6 rpg, 2.9 apg, .416 fg%, .365 3-pt fg%
G – Alex Borchers: 9.0 ppg, 2.6 apg, 1.9 rpg, 1.0 spg, .474 fg%
G – Pierce Almond: 10.1 ppg, 3.2 rpg, 1.7 apg, .411 fg%, .355 3-pt fg%
G – Brody Egger: 15.0 ppg, 3.3 rpg, 2.0 apg, .438 fg%, .376 3-pt fg%
C – Bryce Koch: 17.0 ppg, 8.8 rpg, 1.2 spg, 1.1 bpg, .639 fg%