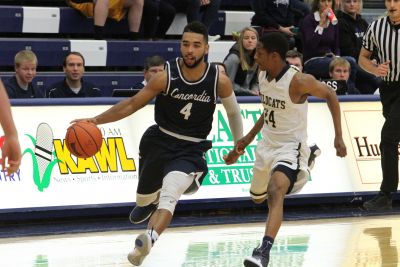 Bulldogs hold off Bethel College, 71-66
The Concordia University men's basketball team held on for a 71-66 win over Bethel College on Saturday afternoon in the final game of the Cattle Classic Tournament. The Bulldogs improved to 3-1 on the year with the win, while Bethel College remained winless on the year at 0-4.
Both teams struggled to find rhythm offensively in the opening half of play. Concordia hit 10-of-24 shots (41.7 percent), while Bethel was just 8-of-25 (32 percent) from the floor in the opening 20 minutes. Concordia took a 28-22 lead into halftime.
In the second half, both teams put up over 40 points. The Bulldogs were 13-of-26 from the floor, while the visiting Threshers were 14-of-32 (43.8 percent) in the final half. Concordia used solid free throw shooting down the stretch to seal the win. The Bulldogs were 15-of-20 (75 percent) in the second half and 21-of-26 (80.8 percent) overall from the free throw line in the win. Concordia also held a commanding 40-28 rebounding advantage.
Sam Huebner (Aurora, Colo.) scored a team-high 17 points and added four assists to lead the way for the Bulldogs. The senior forward was 5-of-8 from the field and 7-of-8 at the free throw line. Ryan Shrum (Allen, Texas) added 16 points and six boards. Shrum was 4-of-9 from three point land and was the only Concordia player to hit a 3-pointer in the game. Porter Birtell (Madison, Neb.) also reached double figures for the Bulldogs with 15 points.
Bethel was 22-of-57 (38.6 percent) from the field overall. The Threshers were 10-of-25 (40 percent) from deep and 12-of-15 (80 percent) at the foul line. Jason O'Brien scored a game-high 21 points on 7-of-10 shooting from long range to lead Bethel College. Alonzo Haywood added 13 points, and Justin Schneider added 10 for the Threshers.
Following the game, the Cattle Classic All-Tournament Team was selected. Alonzo Haywood (Bethel College), Dedrick Dews (York College), Corey Standerfer (York College), Ryan Shrum (Concordia University) and Sam Huebner (Concordia University) were named to the team.
Concordia hosts Grace University on November 16 at the Health, Human Performance and Athletic Center.