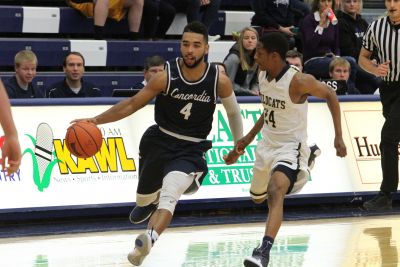 Bulldogs go cold in second half, suffer 76-61 loss to Dickinson State
Dickinson State outscored Concordia 48-27 in the second half to pick up a 76-61 men's basketball win on Friday evening in the Northwestern College Tournament. Dickinson State improved to 3-4 with the win, while Concordia suffered its first loss to drop to 2-1.
Concordia was an even 50 percent (13-of-26) from the field in the opening half and took a 34-28 lead into halftime. The Bulldogs cooled off in the second half, however, hitting just 7-of-28 shots for 25 percent. Dickinson State took full advantage and hit on 16-of-27 shots (59.3 percent) in the final half of play. Dickinson State led by as many as 19 (72-53) down the stretch and settled for the 15-point win.
Matthew Lee had a huge night for the Blue Hawks in the win. Lee scored a game-high 23 points and added a game-high 17 rebounds on the night. He was 10-of-14 from the field, and all of his rebounds were defensive rebounds. Casper Hesseldal added 19 points on 5-of-7 shooting, and Tevin Hurd poured in 14 points, also on 5-of-7 shooting from the field. Dickinson State held a commanding 39-24 rebounding advantage on the night.
Concordia was led by Tyler Byrd's (Bennington, Neb.) 13 points. The senior guard connected on four 3-pointers on the night. Joel Haywood (Lakewood, Colo.) was the only other player in double figures with 11.
The Bulldogs will look to bounce back on Saturday in the final day of the Northwestern Tournament. Concordia takes on Grace (Neb.) at 2 p.m.