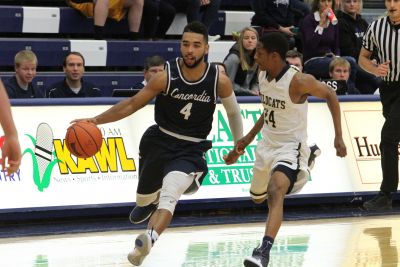 Bulldogs fall victim to Hastings' torrid long range shooting
SEWARD, Neb. – A stifling hot Hastings bunch drained six of its first eight 3-point attempts to stop its 10-game skid. The visiting Broncos shot 49.2 percent from the field on the way to an 87-60 victory over the Concordia University men's basketball team inside Walz Arena on Wednesday evening. The Bulldogs had sought their first regular-season sweep of Hastings since the 2010-11 campaign.
The defeat marked the fourth straight for second-year head coach Ben Limback's squad, which fell to 10-11 overall and 5-9 in league play. The loss was crucial for GPAC tournament positioning as the Bulldogs moved back to eighth place. Eight teams advance to the league tournament.
The 3-point onslaught was out of character for a Hastings (7-15, 4-8 GPAC) team that entered the night shooting 33.3 percent from long range. On Wednesday the Broncos got treys from six different players to frustrate Concordia. Freshman guard Connor Musiel splashed in 6 of 8 shots from distance to lead a Hastings barrage that missiled in 14 of 23 (.609) hurls from behind the arc.
The Bulldogs again got a good chunk of their offensive production from the stellar combo of Chandler Folkerts (16 points, six rebound and three blocks) and Robby Thomas (nine points and four rebounds). Unfortunately, defensive struggles surfaced just as they have recently while up against a league loaded with dynamic offensive attacks. Each of Concordia's last three opponents have shot better than 49 percent from the field.
The boards were also dominated by Hastings, which out-rebounded the Bulldogs, 47-30. Concordia was held to 36.7 percent shooting and got little in the way of second-chance opportunities with the Broncos ensuring mostly one-and-done possessions.
Freshman guard Reilly Carew provided solid minutes off the bench for Concordia. He turned in seven points, four rebounds, two steals and two assists in 21 minutes of action. Fellow freshman Kevin White chipped in eight points.
The only Bulldog lead of the night occurred when Folkerts scored in the paint for the game's first points. The Broncos followed with an 8-0 run and never looked back. Head coach Bill Gavers' squad led, 45-27, at halftime and grew its lead to as many as 29 points in the second half.
The Broncos' leading scorers were Carson Blum (19 points), Musiel (18) and Tobin Reinwald (17).
Hastings had not won since upsetting then No. 20 Tabor College, 84-76, on Nov. 29.
The Bulldogs break from conference action on Saturday when they trek to Omaha for a road contest with Grace University (8-13). Tipoff is slated for 4 p.m. In this season's first meeting with the Royals, Concordia fell by a 73-60 score inside Walz Arena as part of the Cattle Classic on Nov. 7.