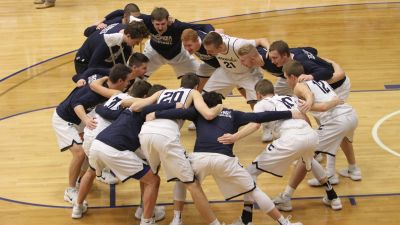 FREMONT, Neb. – It seemed like eons ago since the Concordia University men's basketball team met and defeated Midland in Seward to open up conference play back on Nov. 15. This time around, the Bulldogs put together a gritty defensive effort, but got outplayed down the stretch and fell by a score of 67-61 in Fremont on Wednesday night (Jan. 31).
Fifth-year head coach Ben Limback's squad entered the night with hopes of claiming back-to-back GPAC road wins over in-state rivals. Instead, Concordia slipped to 16-8 overall and to 7-6 in league play.
"We had a couple free throws that didn't go in and I thought we took some rushed shots and panicked a little bit," Limback said of the closing sequences. "I'm proud of our guys defensively for really guarding and playing really, really hard. We were really active. They started to hit some threes against our zone so we had to get out of it, but I really liked how hard we were playing defensively."
This game was up for grabs. No team held a lead larger than four points the entire second half until Shak Triplett nailed his final four free throws to provide the final winning margin for the Warriors (14-12, 5-10 GPAC). The contest was ultimately decided when the Bulldogs came up empty down 63-61 with under 30 seconds left. Jake Hornick missed a driving layup and Concordia was tagged with a technical foul on the ensuing rebound. Game over.
The dynamics have changed for Oliver Drake's crew, which no longer has the services of two players who started when Midland played at Walz Arena in November. On the other hand, Triplett (12 points, eight rebounds) is a welcome second semester addition. Triplett, Ryan Williams (15 points, nine rebounds) and Reggie Gradwell (12 points, five rebounds) supplied just enough offense for the Warriors to get by the Bulldogs.
All five starters went at least 30 minutes for Concordia, which failed to pack its outside shooting (4-for-19 from 3-point range) on the road. Four Bulldogs reached double figures: Tanner Shuck (15 points, two steals), Clay Reimers (14 points, 12 rebounds), Kyle Pierce (14 points, five rebounds) and Hornick (12 points, four rebounds). Collectively, the Bulldogs shot just 40.4 percent from the floor compared to the Warriors' 41.1 percent clip.
"They had a lot of length and I think that bothered us at times," Limback said. "Even still, we didn't finish well and make free throws well enough to come away with a win."
Concordia ended the month of January with four-consecutive games away from home. That stretch began with an impressive offensive display in a 93-83 win at Hastings. The Bulldogs then split two games at the annual Concordia Invitational Tournament. An injury suffered at CIT kept big man Zach Friel off the court for the second game in a row. Three home contests remain on the regular-season slate.
The Bulldogs hope to claim their first victory over a top 25 opponent this season when No. 11 Northwestern (19-4, 9-4 GPAC) invades Walz Arena on Saturday. Tipoff is set for 4 p.m. CT in Seward. Concordia is seeking to avenge a 111-103 loss in Orange City, Iowa, on Dec. 15. Fans are encouraged to wear white in support of the 'white out' at Walz.