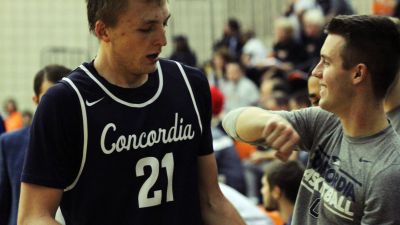 CRETE, Neb. – The margin between winning and losing can be razor thin in the GPAC. The Concordia University men's basketball team is all too familiar with that notion, having played in many seesaw battles over the past few seasons. In Tuesday's rivalry renewal, the Bulldogs fell at Doane, 80-77, in a wire-to-wire clash.
Fourth-year head coach Ben Limback's squad has come away empty in all three of its conference road trips so far this season. The Bulldogs slipped to 5-4 overall and to 1-3 in the GPAC.
"We're all disappointed about the loss," Limback said. "But you have to learn and understand how you lose or how you win and what you need to improve on. Certainly this was not our best effort defensively from the 3-point line. I think that's the biggest thing that we need to do well is guard the three."
Despite trailing by six with under 30 seconds to play, Concordia still had a shot after a 3-pointer by Tanner Shuck and a layup from Eli Ziegler cut Doane's lead to three (80-77). Jake Hornick then stole the inbounds pass and gave way to Ziegler, who fired a shot from well beyond the arc. Ziegler tried to draw contact, but no whistle came and the Tigers pushed the ball into the front court to drain the final few ticks.
Don't blame the Bulldogs if they felt like they let an opportunity slip through their fingers. Boosted by some freshmen theatrics that featured back-to-back flushes in the second half, Concordia led by seven (57-50) with just under 11 minutes remaining. Off a dish from Justin Damme, Clay Reimers threw down a two-handed slam. On the very next Bulldog possession, Shuck drove the left baseline and slammed home two more points, bringing the bench to an uproar.
"I thought those guys gave us a big lift at about the 10-minute mark," Limback said. "We needed some aggressive play and something to jump start us at both ends. I thought Clay and Jake were very active defensively and Tanner offensively did a lot of great things again for us tonight."
Both teams rode the teeter totter for the next eight minutes. With Concordia leading 70-69, Doane went on a critical 9-2 run that crippled the visitors. Included in that spurt was a Reid Williams trey that made it 76-72. On the next possession, the Bulldogs failed to score despite four cracks at the rim.
Chandler Folkerts paced Concordia with 22 points on 9-for-18 shooting from the floor. He also chipped in four blocks and four assists. Shuck put up 13 points while making 5-of-6 shots (3-for-3 from 3-point range) and Jake Hornick went 3-for-4 from deep with 11 points. Ziegler added 13 points for a squad that shot 47.5 percent (29-for-61) for the game.
Doane was topped by the 15 points apiece by Nate Kuhle and Rylee Zimmerman. The Tigers shot 45.9 percent while earning their first GPAC win of the campaign.
The Bulldogs will be back in action on Saturday for an exhibition game at NCAA Division II Northwest Missouri State University, located in Maryville, Mo. Tipoff was moved to 6 p.m. CT. The next official game is slated for Thursday, Dec. 1 when Haskell Indian Nations University (Kan.) (1-8) makes a visit to Walz Arena for a 7 p.m. start time.