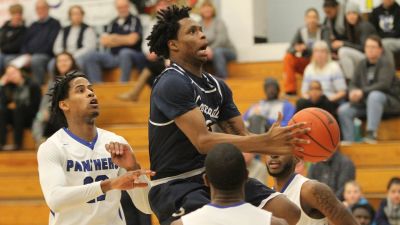 YORK, Neb. – It just wouldn't be Concordia University men's basketball without playing wire-to-wire. In Wednesday night's nonconference action, the Bulldogs allowed a 12-point lead to slip away, shot only 29.6 percent in the second half and host York College celebrated a 70-65 win inside the Freeman Center.
Third-year head coach Ben Limback's squad had won three of its previous four contests away from Walz Arena. The loss to the in-state Panthers marked Concordia's first of the season against a nonconference opponent. The Bulldogs dropped to 11-7 overall.
"It's a good road challenge. We knew it would be a good environment here," Limback said. "We wanted to play mentally tough and I thought we did for the majority of the game. We knew we couldn't turn it over tonight and we had too many of those.
"It's one of those games where we have to forget about it and bounce back because we have a conference game on Saturday."
Michael Johnson nearly brought the house down with an emphatic one-handed throw down midway through the second half. Plays like that helped energize a hot York team that has now won eight of its last nine games.
The Panthers (14-6) slashed into a 28-16 first-half deficit by lighting it up from 3-point range. On consecutive possessions, two Cameron Coleman long balls sandwiched a triple from teammate Chris Smith as part of a 9-1 York run that helped the host get within three (38-35) at the half.
It was nip-and-tuck the rest of the way. York led 67-60 with under two minutes remaining, but the Bulldogs clawed back and trailed just 68-65 with :23.7 left after Rudy Knight's driving layup. After Johnny Cooksey made 1-of-2 free throws, Knight misfired on a long triple and York sealed the game thanks to Johnson's defensive board.
Though Chandler Folkerts (14 points and 11 rebounds) notched his fourth-straight double-double, Concordia failed to overcome its 10 second-half turnovers, 41.8 percent shooting (23-for-55) from the field and 13-for-22 (.591) free throw shooting for the game. Robby Thomas led all scorers with 17 points. He added three blocked shots.
Off the bench, junior Max Wegener turned in one of his best performances of the season, totaling eight points and six rebounds in 15 minutes of action. Eli Ziegler drained a pair of early treys and finished with eight points. Point guard Jamie Pearson had seven.
York had six players rack up eight points or more, topped by Smith's 15. Darreon Tolliver came off the bench to post a double-double – 12 points and 13 rebounds. The Panthers overcame their own 39.1 percent (25-for-64) shooting from the floor. They held a 41-36 rebound advantage.
Following three-straight road games, the Bulldogs return home on Saturday to host 15th-ranked Dakota Wesleyan (14-6, 6-4 GPAC) at 4 p.m. CT. Concordia will attempt to record its third win of the season over a ranked opponent while ending an eight-game series losing streak with the Tigers.
"We're excited to play them," Limback said. "They spread it out offensively with a lot of good shooters. They're one of the top teams in our league so I think guys are excited for the challenge. We have to bounce back. Our team knows that. We'll be ready to go tomorrow in practice."