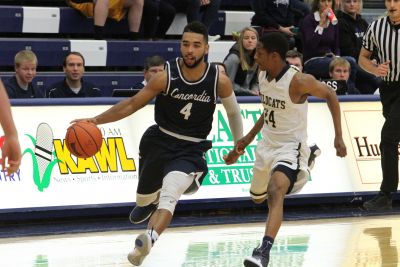 Bulldogs erase 18-point deficit, advance to CIT title
MEQUON, Wis. – The Concordia University Nebraska men's basketball team used a 19-2 run to come all the way back from a 18-point deficit and defeat Concordia University Ann Arbor, 73-61, in the first men's game of the 2014 Concordia Invitational Tournament. Friday marked day one of two at the annual CIT. Concordia University Wisconsin is this year's host.
A more focused defensive effort keyed the Bulldogs' improbable march all the way back from a double digit deficit and then some. After Cardinal marksmen Josh Fugate and John Schaeffer went wild in the first half, Micah Kohlwey and company clamped down and held CUAA (9-12) to 25 percent shooting and 19 points in the second half.
"It was a tale of two halves," Bulldog head coach Ben Limback said. "Each team had a good half. Fortunately we were able to pull ahead."
Kohlwey also came up big at the free throw line by converting 8 of 9 attempts from the charity stripe. He tied freshman Chandler Folkerts for a team high 14 points. Three other Bulldogs reached double figures as part of a balanced offensive attack that featured the likes of Justin Damme (11 points), Robby Thomas (11 points) and Adam Vogt (10 points).
Kohlwey knew the key to getting back into the game would be limiting Fugate and Schaeffer, who combined for 23 of their 30 points in the first half.
"In the second half we shut them down," Kohlwey said. "They only got two threes. I think that was one of the main keys in the second half that helped us win."
With 7:19 left to play, the two teams were knotted at 56. A driving Joel Haywood layup began a 17-5 Bulldog spurt to close the game. During the game-winning stretch run, CUNE made all 10 free throw attempts and got a backbreaking corner 3-pointer from Vogt to push a six-point lead to nine in the final two minutes.
Down 18 points in the first half, CUNE (6-15) turned the game around with a 19-2 run that spilled over into the second half. The Bulldogs came all the way back to tie on a Robby Thomas triple from the left wing that made it 43-43 at the 15:30 mark. The Cardinals answered impressively with back-to-back threes.
After being held without a single point or rebound in the first half due to foul trouble, Folkerts dominated in the second half. He put up all 14 points and seven boards after the intermission. At one point Folkerts scored in the paint on three-consecutive possessions to aid the rally.
On the other hand, Damme did most of his damage in the first half to help the Bulldogs keep within striking distance at a time when it looked like the Cardinals might run away and hide.
"Both of those freshmen play extremely hard for us," Limback said of Damme and Folkerts. "Justin did a phenomenal job of going inside and finishing when we needed some tough buckets. And Chandler, you can see what he's capable of when he's on the floor. He had a great second half."
In addition, Limback praised sophomore guard Deondre White (seven points, four rebounds, two assists) for his steady play in 23 minutes of action. White received the game ball following the contest.
For Limback the game felt brought a degree of awkwardness going up against a program he coached for nine years.
"It's emotional. I can't say it wasn't," Limback said. "There are only four guys on that roster that I didn't recruit or have a hand in the recruiting process."
The Bulldogs have advanced to Saturday's title game at the 63rd annual Concordia Invitational Tournament. Tipoff is set for 7 p.m. from R. John Buuck Fieldhouse. Limback's squad will go up against Concordia-Wisconsin (9-9) on Saturday in a rematch of last year's championship contest.