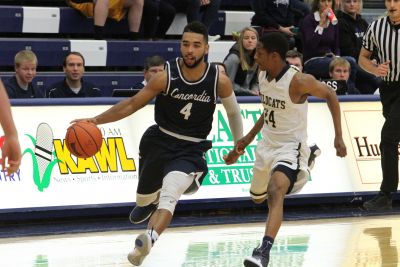 Bulldogs end season at 16-15 with GPAC quarterfinal defeat
MITCHELL, S.D. – Matched with GPAC regular-season co-champion and third nationally-ranked Dakota Wesleyan, the Concordia University men's basketball team made its return to the GPAC postseason after a two-year absence. Despite holding the potent Tigers to 10 points below their season scoring average, the Bulldogs ended their season with a 78-64 loss in Mitchell, S.D., on Wednesday night.
At 16-15 overall, Concordia ended a stretch of three-consecutive campaigns without a winning record. The win total doubles its victory count from last season when head coach Ben Limback's first Bulldog squad went 8-21 overall.
More signs of progress were shown Wednesday against a Dakota Wesleyan (28-3) team that has yet to lose at the Corn Palace (16-0).
"They're a real tough team, especially at home," Limback said. "I'm proud of our guys. We defended and held them to 42 percent shooting. If you would have told me we would hold them to 78 points, I would have thought we would have a good chance.
"This was a physical game and we couldn't get things going offensively, but I'm proud of the effort."
After trailing by 17 with under nine minutes left in the game, Concordia went on a 14-3 run that cut the Tiger lead to 66-60 with 5:04 left. The spurt began with six-straight points from Chandler Folkerts (team high 16 points) and ended with Eli Ziegler stroking one of his three triples on the night. The powerful Tigers ended the game on a 12-4 run to turn the lights out on the Bulldog season.
The loss ended the career of senior Joel Haywood, who this season became the 26th member of Concordia's 1,000-point club. He concludes his four years as a Bulldog with 1,091 points and 334 assists – sixth most in program history.
Haywood was held to four points in his final collegiate game. Three Bulldogs joined Folkerts in double figures in scoring: Micah Kohlwey (12), Robby Thomas (12 points and 11 rebounds) and Ziegler (11). After shooting 52.6 percent over its last five games, Concordia managed only 40.7 percent against Dakota Wesleyan.
On the other side, star senior Jalen Voss got loose for 28 points and 11 rebounds on 11-for-20 shooting from the field. Kris Menning added 22 points and Trae Bergh chipped in 15 for the victors.
While Concordia ends its season with conference quarterfinal loss, it looks ahead to 2015-16 with plenty of momentum. Haywood will depart as the lone senior. Budding stars in Folkerts and Thomas will serve as center pieces for a team that will be expected to make another leap forward. Folkerts burst onto the scene with national player of the week award and averaged 15.6 points and 7.3 rebounds as a sophomore.
"The best part of this loss is our guys are even hungrier now," Limback said. "I feel like we were playing our best basketball at the right time. If we didn't draw Dakota Wesleyan things may have been different. I told the guys that I'm happy with the progress, but taking the next step will not be easy."
Included in Concordia's season of big improvements were road wins over No. 3 Northwood University and No. 12 Midland. The Bulldogs went 11-7 away from home. During the regular season, they finished in a three-way tie for sixth place.
Dakota Wesleyan advances to play 14th-ranked Midland in one of Saturday's two GPAC semifinal games.