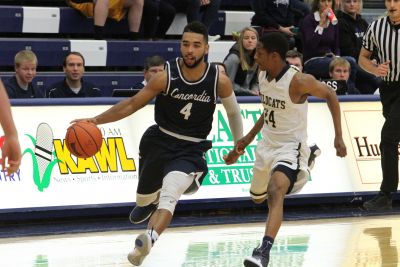 Bulldogs drop to 7-7 with loss to Sterling College
It was a disappointing few days at the Tabor College Classic, as the Bulldog men's basketball team went 0-2 in the tournament. Sterling College held on for a 75-71 victory on Saturday afternoon to take the Warriors to 7-9 on the year. Concordia dropped to 7-7 with the loss.
Concordia held a slim 35-33 halftime lead. The game remained tightly contested during the second half. Down the stretch, Sterling College took a 63-57 lead with five minutes remaining in the contest. Brian Towner (Houston, Texas) pulled Concordia back within four with a pair of made free throws. Sterling answered with two makes from the foul line to push the lead back to six. Porter Birtell (Madison, Neb.) responded with free throw makes to make the score 65-61 with four minutes to play.
The Bulldogs pulled within three with a free throw by Charles Dunbar (St. Louis, Mo.). The Bulldogs then got a stop but couldn't secure the rebound. An offensive rebound and layup increase the Sterling lead to 67-62. Concordia answered with an offensive rebound and tip in by Tyler Byrd (Bennington, Neb.) to pull the Bulldogs back within three (67-64) with two minutes to play.
Joel Haywood (Lakewood, Colo.) went 1-of-2 at the foul line to cut the Sterling lead to two. However, things unraveled for the Bulldogs on Sterling's next possession. Cody Brazelton scored on a layup and was fouled on the play. Concordia was also called for a technical foul following the play. The Warriors went 2-of-3 at the foul line, and Sterling held a 71-65 lead. Free throw shooting down the stretch helped secure the victory for Sterling.
Brazelton had a huge game for Sterling in the win. He scored 27 points and grabbed 10 rebounds to lead the way for Sterling. Trent Stutzman added 18 points, and Adam Brown poured in 15 points. Eddie Adesodun delivered 11 points (all in the second half) for the Warriors.
Haywood scored 17 points and dished out four assists for Concordia in the loss. Byrd added 12 points, while Beau Smith (McKinney, Texas), Towner and Birtell all scored 11. Birtell added eight rebounds, but the junior post was limited to just five field goal attempts in the contest. Concordia returns to GPAC play at Northwestern College on January 4.