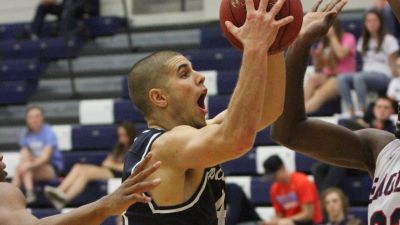 SEWARD, Neb. – While putting together its most complete performance of the young season, the Concordia University men's basketball team put away Breiman Alexander and visiting Oklahoma Wesleyan University in the final game of the 17th annual Cattle Classic on Saturday. Lifted by 38-for-48 free throw shooting, the Bulldogs posted a 100-89 victory inside Walz Arena.
Fourth-year head coach Ben Limback's squad is now 3-1 overall after capping a 2-0 weekend at home. A little home cooking effectively allowed the Bulldogs to put behind last week's loss in Denver.
"Oklahoma Wesleyan has some good athleticism and talent," Limback said. "Certainly No. 1 (Alexander) had a heck of a day. I thought we guarded and gave some good effort. Our rotations were better today. Our ball screen defense was better at certain times. I was pleased with the defense even though we allowed 89 points. It was a very high possession game."
On the offensive end, three Bulldogs racked up 18 or more points: Chris Johnstone (23), Eli Ziegler (20) and Chandler Folkerts (18). Both Folkerts and Ziegler were named to the All-Cattle Classic team. A night after going for 28 points and 11 rebounds, Folkerts came up just one rebound shy of another double-double.
A transfer from Chaminade University, Johnstone flashed many of the skills that made him an exciting addition. He was one of four starters to play at least 30 minutes. The starting five combined to make 34-of-40 shots from the foul line during a game that saw the Eagles engage in a foul fest in an effort to extend the game down the stretch.
Alexander made the Bulldogs sweat by curling in shots from the cheap seats. He took full command of the Oklahoma Wesleyan offense while filling it up with 15 of his game high 38 points coming over the final three-and-a-half minutes of action. His triple with 1:28 left got the Eagles (1-3) within eight (92-84), but he missed on his next two long distance attempts and Concordia salted the game away at the free throw line.
The Bulldogs led the game by as many as 20 points thanks to a particularly dominant stretch to open up the second half. This was a confidence builder for a team that put its focus on shoring up its play on the defensive side of the court over the past week of practice.
"This weekend was huge for us as far as confidence goes," said Ziegler, who drained three more triples on Saturday. "We were kind of shaken after that loss (at Johnson & Wales University). This was a huge step for us and for the future. We definitely showed more confidence this weekend."
The conference season will open up next week with a Wednesday trip to Northwestern for an 8 p.m. tipoff in Orange City, Iowa. Behind a big performance from Folkerts, the Bulldogs came away from Northwestern with an 87-81 win last season. Concordia also beat the Red Raiders at home this past year.
All-Cattle Classic Team
Breiman Alexander, Oklahoma Wesleyan
Chandler Folkerts, Concordia
Diamontae McKinley, Midland
June Prowell, Waldorf
Eli Ziegler, Concordia