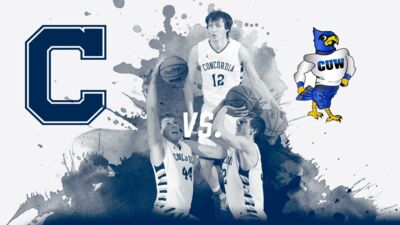 MEQUON, Wis. – The Bulldogs quickly made everyone forget about an early 17-8 deficit by flipping the switch back on in regards to its offensive attack. The CUNE men's basketball team not only dug out of the early hole with ease, it effectively bounced back from a heartbreaking defeat on day one of the Concordia Invitational Tournament. With a 95-87 win over Concordia University, Chicago on Saturday (Jan. 27), the Bulldogs ensured that they wouldn't leave the 67th annual CIT empty handed.
Fifth-year head coach Ben Limback's squad salvaged one CIT win after having its hopes of a third-straight CIT title and 28th all-time dashed. CUNE stands at 16-7 overall.
"The first two or three minutes of the first half I thought we were a little sluggish," Limback said. "They came out and did some good things and then I thought we turned up the defense. That led to some offense and really sparked us. Tanner (Shuck), Brevin (Sloup) and Kyle (Pierce) started getting going. Jake (Hornick) and Clay (Reimers) got going. It just snowballed."
The Bulldogs played their best stretch of basketball all weekend during the latter stages of the first half. CUNE's stars played like stars in helping it construct a lead as large as 22 points. The only problem was that CUC's Mitch Pelissier never quit – and he can ball. Pelissier drained a trey just before the halftime buzzer and eventually led his squad on a second half rally that made a game of it.
The Cougars (2-17) chipped away at their deficit by outworking the Bulldogs on the boards. CUC's biggest advantage came in second chance points (23-8). Overall, the Cougars outrebounded CUNE, 45-35, while grabbing 18 offensive rebounds. Those boards kept possessions alive when Pelissier (33 points, 11-for-27 shooting) did happen to miss the mark.
In the final minute, the Bulldogs had to sweat. With 37 seconds left, CUC's Henry Woo knocked down two free throws to make it a six-point game (93-87). On the ensuing possession, Kyle Pierce misfired on a potential game-clinching trey, but CUNE caught a break when Clay Reimers was fouled on the rebound. Reimers nailed both free throws to seal the victory.
Reimers (16 points, nine rebounds) and a host of other key players played significantly better a day after a defeat in the waning seconds. Jake Hornick steered his side to a win by posting 21 points and 10 rebounds. Tanner Shuck (20), Kyle Pierce (13 points, three blocks) and Brevin Sloup (11 points) also reached double figures. Hornick and his teammates wanted to make sure they came back home with at least one win.
"We really didn't want to lose obviously," Hornick said. "We just knew we had another game and it's still CIT. We had to come out and play and do our best."
A 54.8 percent first half shooting clip served as a major reason for CUNE's ability to win on Saturday. The Bulldogs shot 47.5 percent for the game. They went an impressive 16-for-37 from 3-point range. On the other end, CUC shot 43.6 percent.
It's back to GPAC play for the final six games of the regular season for the Bulldogs. Up next is Wednesday's trip to Midland (12-12, 4-10 GPAC) for an 8 p.m. CT tipoff in Fremont. CUNE hopes to complete a season sweep of the Warriors after having defeated them 86-72 in Seward on Nov. 15.
"We're pumped," Limback said. "We can't wait to get back to Fremont and to league play. That's our focus right now – to celebrate this one, cheer on our women (in CIT championship game) and get ready for the GPAC."
CIT All-Tournament Team
MVP: Jalen Thompson, CUAA
Jordan Johnson, CUW
Mitch Pelissier, CUC
Connor Phee, CUAA
Clay Reimers, CUNE