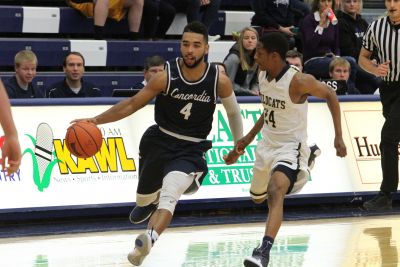 Bulldogs and Mustangs to clash on Saturday in Sioux City
Following a pair of tough losses, the Concordia University men's basketball team looks to rebound on the road this weekend. The Bulldogs travel to Sioux City for a matchup with the Morningside College Mustangs. Tip is scheduled for 4 p.m.
The Bulldogs picked up a big win over then 14th-ranked Northwestern last week. Concordia followed that performance by almost knocking off Dordt College, the 2nd-ranked team in the nation, this past Saturday. The Defenders held on for an 87-83 overtime victory. Concordia suffered another difficult loss on Wednesday evening, as Hastings College used a late 3-point play to pick up a 69-68 win over the Bulldogs. The loss dropped Concordia to 8-9 overall and 4-6 in conference play. The Bulldogs are now in a 3-way tie for sixth place in the conference standings.
Last meeting – Morningside handed Concordia a 77-71 loss back in early December. Morningside led by as many as 18 in the contest, but the Mustangs needed some clutch free throw shooting down the stretch to hold on for the victory. Morningside's Garth Hamilton scored a game-high 27 points to lead the way, while Barrett Braun poured in 17 points for the Bulldogs.
Scouting the Mustangs – Morningside is 11-8 overall and 6-4 in GPAC play entering the weekend. The Mustangs have won three of their last four games, including an 81-59 blowout win over Mount Marty on Wednesday evening. As a team, Morningside is third in the conference in scoring offense (77.9 points per game) and seventh in scoring defense (72 points per game). Morningside has used a balanced offensive attack throughout the season. Three Mustang players rank in the GPAC's top 15 in scoring. Danny Rudeen leads the team with 13.5 points per game, while Bryan Borchers (13 ppg) and Hamilton (12.9 ppg) have also been consistent scoring threats for the Mustangs.
Broadcast - Morningside provides live audio and/or video broadcasts as well as live stats for most women's and men's basketball games. The broadcasts and live stats can be accessed through the Morningside athletic website (bottom of the page) at http://www.morningside.edu/mustangs/index.htm.
Up next – Concordia returns home to host Midland University on January 18. Tip is scheduled for 8 p.m. at the Walz Complex.