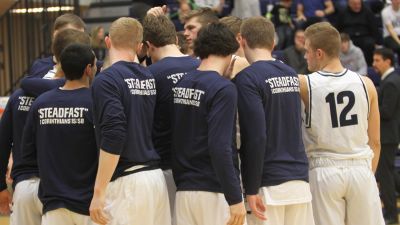 YANKTON, S.D. – The Concordia University men's basketball team appears to have left its offensive game in 2017. Since the calendar flipped to 2018, it's been a struggle. The Bulldogs shot 35.4 percent from the floor on Saturday afternoon (Jan. 13) and slipped up at Mount Marty, 65-63. The result meant that the Lancers ended what had been a lengthy conference losing streak.
Fifth-year head coach Ben Limback's squad has dropped three-straight contests – all against GPAC opponents – and now stands at 12-6 overall and at 5-5 in conference play.
"Offensively we're in a funk right now," Limback said. "When we get an open shot, we can't doubt ourselves. I think we're still putting too much pressure on ourselves individually. We have to learn and grow closer as a team. We have to find ways to be tougher. I have to find a way myself to get these guys to believe in themselves and not feel that pressure."
From an offensive standpoint, the Lancers (4-16, 1-9 GPAC) performed at about the same level that they did back on Nov. 21 when they visited Walz Arena. But in the latest meeting, Concordia couldn't get it done on the offensive end. It shot poorly from every spot on the floor – 42.1 percent inside the arc, 26.9 percent from 3-point range and 50 percent from the free throw line. Those types of numbers are rarely associated with victories.
On the other hand, Mount Marty shot 37.5 percent and did enough to win – and that fact is huge for a program starving for one over a GPAC opponent. The Lancers essentially sealed the victory when Marcus Mathieu canned a pair of free throws to provide a four-point lead (65-61) with less than 10 seconds remaining. The Bulldogs were even too late to hoist up a prayer after the Lancers missed two free throws with 1.5 seconds left. The celebration was on in Yankton.
Concordia remains in search of answers in regards to its recent shooting woes. It ended 2017 by shooting 50 percent or better from the field in five-consecutive outings. Since then, the Bulldogs have turned in percentages of 40.0, 31.0, 43.3 and 35.4, respectively. Clay Reimers (13 points, 11 rebounds) was the team's most effective option on Saturday, but he sat the final 11:23 of game time after being charged with his third and fourth fouls. He played only 15 minutes.
Jake Hornick helped keep the Bulldogs close down the stretch. He finished with 14 points and six rebounds. Always hustling, senior Kyle Pierce put up nine points and 13 rebounds. Only 10 combined points came from the Concordia bench.
"We have to have the confidence to make plays when we need them," Limback said. "I have to get us to buy into how good we can be. It starts with daily preparation. It starts with hard work and a competitive edge in practice. That's something we told them afterwards. We have to have confidence in our preparation."
In a reserve role, Jailen Billings dropped a game high 15 points on 6-for-9 shooting. Shaye Bloch (12) and Conlan Callahan (10) also reached double figures in scoring for the Lancers, who picked up their first conference win since February 2014. To Mount Marty's credit, it came close to claiming GPAC wins in home defeats by five points or less to both Morningside and Hastings.
The Bulldogs will dip outside of conference play on Wednesday (Jan. 17) with a trip to Lawrence, Kan., and a clash with Haskell Indian Nations University (5-14). Tipoff is set for 7 p.m. CT. In last season's meeting inside Walz Arena, Concordia blew out the Indians, 104-72, while shooting 58.2 percent from the floor.