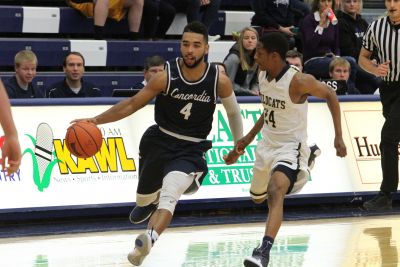 Bulldog offense goes ice cold in 66-54 loss to Tabor College
Concordia University struggled offensively throughout the contest, and Tabor College secured a 66-54 men's basketball win on Friday evening in Kansas. The Bulldogs dropped to 7-6 on the year with the loss, while Tabor improved to 6-8.
The Bulldogs trailed by just two (30-28) at the half despite just 10-of-26 shooting (38.5 percent) in the opening half of play. The host Bluejays were just 12-of-33 (36.4 percent) from the field in the opening half, as both teams struggled to find any offensive rhythm.
Things went from bad to worse in the second half, as Concordia was just 7-of-31 from the field for 22.6 percent. Following the slow first half, Tabor was 10-of-21 from the floor in the second half for 47.6 percent. For the game, Concordia shot a season-low 29.8 percent (17-of-57) from the field. Tabor finished 22-of-54 overall for 40.7 percent. The Bluejays had a great night from deep, however, hitting 9-of-16 shots from behind the arc for 56.3 percent. Concordia managed just 7-of-23 shooting (30.4 percent) from deep in the loss.
Lawson Kingsley led four players in double figures for Tabor College with 14 points. Kingsley was 5-of-9 from the field overall and 3-of-5 from long range. Phillip Jimenez hit three 3-pointers and scored 13, while Dylan Clark-Kaneable added a double-double with 13 points and 12 boards for the Jays. Joe Penn also reached double figures with 11 points.
Beau Smith (McKinney, Texas) and Porter Birtell (Madison, Neb.) were the only players to reach double figures for Concordia in the loss. Smith knocked down three 3-pointers and finished with 15 points and nine rebounds. Birtell chipped in with 11 points and nine rebounds on the night.
Concordia concludes play in the Tabor College Holiday Tournament on Saturday. The Bulldogs take on Sterling College at 3 p.m.