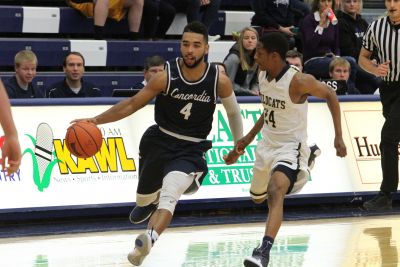 Bulldog men's basketball program signs Andrew Bowers of Lutheran High School-Parker
Concordia University men's basketball coach Grant Schmidt has announced the signing of Andrew Bowers. Bowers prepped at Lutheran High School in Parker, Colorado.
Bowers, a 6'7" forward, has been a steady performer for the Lions over the course of his career. He is a four-year starter and letter winner. He has been team captain for the past two years.
As a freshman, Bowers averaged over eight points, six rebounds and two blocks per game to earn honorable mention All-Conference honors. He was also the Defensive MVP for Lutheran High.
Andrew averaged 10.7 points, 7.2 rebounds and 2.7 blocks per game in his sophomore season. He was a First Team All-Conference and honorable mention All-State performer, and he was named team Defensive MVP for the second straight year. Lutheran High advanced to the Elite Eight in the Colorado State Tournament during his sophomore year.
Last season, Andrew averaged 13 points and eight rebounds per game for the Lions. Lutheran High went 22-5 and won the consolation championship in the State Tournament. For his efforts, Andrew picked up First Team All-Conference and Second Team All-State recognition. He was also voted Team MVP.
So far in his senior season, Bowers is averaging 14 points per game, and his team has been ranked No. 1 in the state in Class 2-A.
Bowers also competed for one year in track. He finished second in the state during his junior year in the high jump (6'5").
"We are extremely excited about this signing," noted Schmidt. "Andrew is such an explosive player, but he also has tremendous touch. He plays for a top-ranked team and has a lot of experience in the summer with club teams. Many bigger schools looked at him, so this is a great signing for our school and basketball program."
Andrew is the son of Keith and Lori Bowers. He plans to major in Business at Concordia.