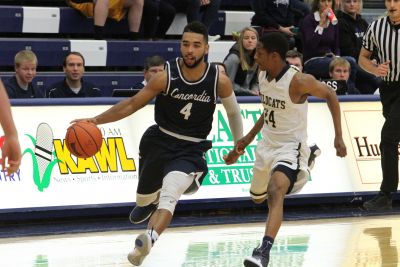 SIOUX CITY, Iowa – The Concordia men's basketball team defeated Morningside College 83-79 on Saturday afternoon. The Bulldogs shot .531 from the field and saw two player score above 20. Both Chandler Folkerts and Jamie Pearson went 7-8 from the free throw line to help lift the team to its fifth victory in the last six contests.
The Bulldogs improve to 16-10 overall and 8-9 in the GPAC while the Mustangs fall to 10-16 overall and 6-11 in the conference.
Head coach Ben Limback said, "I thought we had a really balanced attack offensively tonight. Jamie did a great job of making driving kicks. When we were scoring and going on runs it was because our offense was making the extra pass and making the easy plays. Offensively, I thought overall we moved it well and did some good things as a team."
Concordia compiled a .531 shooting percentage from the field and a .480 mark from behind the arc. The Bulldog defense held Morningside to a .492 percentage from the field. The Bulldogs outrebounded the Mustangs, 32-27 and also held a 6-4 advantage in steals.
Folkerts racked up 22 points and was just one rebound shy of recording a double-double. Pearson put up 21 points while Eli Ziegler contributed 17, going 5-8 from behind the arc. Ziegler also gave out four assists and no turnovers. Going a perfect 2-2 from 3-point range, Micah Kohlwey scored six and dished out four assists.
The familiar back and forth style of play followed the Bulldogs to Sioux City on Saturday. The largest lead in the first half was in favor of Concordia by seven. The lead came after a 10-2 run that lasted a minute and a half. The streak featured two treys from Ziegler. To close out the half, the 'Dogs hit back-to-back 3-pointers and a layup courtesy of Pearson and Seth Curran.
After a seesaw second half, Kohlwey nailed a 3-pointer with 1:11 left to play. The trey gave the Bulldogs a lead of 10 which was the largest advantage held by either team during the tilt. Kohlwey's shot was answered by a layup from Morningside's Ryan Tegtmeier and two made free throws from Bryce Koch. Concordia was up by just six but used a sting of four free throws from Pearson to lock in the win.
"I'm so proud of the guys. This was a big game conference wise. Going out on the road and getting the win here is exciting," Limback said.
The Concordia men's basketball team continues GPAC play as it hosts Midland University (13-11, 10-6) inside Walz Arena. The contest is set to begin at 8 p.m. on Feb. 10.