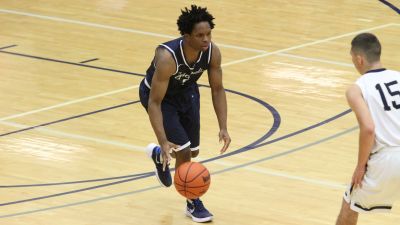 Bulldog basketball opens season with 40 point win
SEWARD, Neb. – The Concordia men's basketball team posted up a big win over Johnson & Wales on Saturday afternoon. The Bulldogs, only down by one early in the tilt, led for the majority and won, 89-49. All 15 Bulldogs saw action during the victory.
Head coach Ben Limback said, "On defense, I really liked our effort, I liked our communication. We've got to adjust to the way their calling the game, there were a lot of fouls, we've got to clean that up. Defensively we've been harping on that since the beginning of the season. This team buys in defensively and I liked their effort and focus, but we've got to clean up some things on our end and we'll do that in practice."
Defense was a big part of the Bulldogs' game as they marked up five steals and swatted away eight Wildcat shots. Concordia was also able to force 19 JWU turnovers, scoring nine points off of those. The CUNE defense held the Wildcats to a .254 field goal percentage.
On the offensive side, the Bulldogs shot 55 percent, with junior Chandler Folkerts leading the way. The Milford native went 7-11 from the field and 5-6 from the free throw line, racking up a game-high 19 points. Folkerts also posted eight rebounds and three blocks.
Said Folkerts,"It was really great, we've been waiting a long time after a month of practice. It was great to finally play a different team. We ran really well. Guys found me on a lot of dump passes and it was just an all-around great effort by everybody."
Also scoring in double digits for Concordia was Robby Thomas (14) and Eli Ziegler (10). Thomas led the Bulldogs in rebounds with nine and in steals with three. Senior transfer Jamie Pearson and senior Micah Kowhlwey each dished out five assists. Kowhlwey put up seven points while Pearson contributed six.
"We have guys that compete every day in practice," Limback noted. "To get everybody in today was awesome. We have great depth and they compete when they go in there. I think Max (Wegner) and Nathan (Toenjes) give us a big lift off the bench and a lot of guys stepped up today."
Scoring 28 points, the Bulldog bench showed up in a big way in the competition on Saturday. The reserves also grabbed 28 combined rebounds and half of the eight blocks. Leading scorer off the bench was Kyle Pierce who added nine points to the Bulldogs' total.
The Bulldogs open the season 1-0, 0-0 GPAC after the win while the Wildcats fall to 1-1 this year.
On upcoming play against No. 8 Bellevue University, Limback said, "We've got to be ready and clean up some of the stuff we did today. They're (Bellevue) a well-coached team and play hard defensively. We're expecting a great battle…it'll be a great test for us."
The Concordia men's basketball team will compete in the Cattle Classic next Friday and Saturday, Nov. 6-7. The Bulldogs' first opponent will be No. 8 Bellevue University on Friday, Nov. 6. The tilt will take place at 8 p.m. inside Walz Arena.