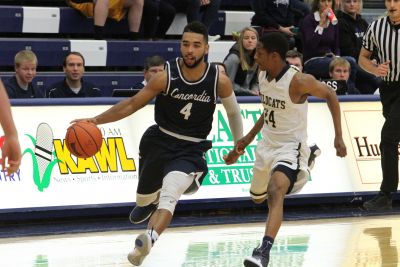 Briar Cliff holds off late Haywood-charged rally
SEWARD, Neb. – Despite a late comeback effort that made the final minute tense, the Concordia University men's basketball team fell at home for the second-straight time in GPAC play. Visiting Briar Cliff (5-1, 2-0 GPAC) held on for a 70-66 victory inside Walz Arena on Tuesday night.
Senior Joel Haywood and junior Robby Thomas sparked a rally from a 10-point halftime deficit. The Bulldogs got within two before a pair of Charger free throws with under three seconds left iced the game. Head coach Ben Limback's squad moved to 3-4 overall and 1-2 in conference play.
"I thought we competed tonight," Limback said. "It's another good team we played. We knew coming in that we had to compete hard to have a chance. I thought we hung in there. Offensively we tried to find that balance between being too aggressive and forcing things.
"I have to give our guys credit for doing some nice things down the stretch."
The Bulldogs got back into the game midway through the second half with an 11-2 run, capped by Thomas' trey, to cut a 13-point deficit to just four, 47-43. Thomas came up with a big second half after a mostly quiet first 20 minutes. He piled up all 11 of his points and each of his four blocks after the intermission to aid the Bulldog spurt.
After Briar Cliff pushed its lead back up to nine with 3:18 to play on Shane Graves' jumper, Haywood went to work. The versatile guard responded with a three-point play. He tallied seven of his game high 20 points in the closing three minutes, including a pair of free throws with nine seconds remaining that got Concordia within two.
Down 68-66 with under five ticks left, Concordia forced a turnover underneath its own basket on the ensuing inbounds. Unfortunately, the Bulldogs turned it right back over when Thomas' foot came down out of bounds after he received a pass. Clay Harreld then sank two free throws to end the Bulldogs' bid for a come-from-behind win.
"It was a lot of movement offensively," Haywood said of the rally. "A big part of our team is confidence. We have to come out and be the aggressor. We can't be on our heels. We were able to be the aggressor more in the second half and that led to the tempo being what we wanted it to be."
Haywood was also part of a solid defensive effort that limited one of the NAIA's best outside shooting teams to 4-for-16 from beyond the arc. There wasn't a whole lot Haywood didn't do well on a night he turned in five rebounds, four assists, two steals and just two turnovers in addition to his 20 points.
The play of Haywood, Thomas in the second half and the overall defensive effort were big positives on Tuesday.
"This needs to give us confidence going into the next game," Limback said. "Briar Cliff's a great offensive team and we liked how we competed defensively, especially in the second half."
Harreld topped the Chargers, whose only came outside the conference to Clarke University, with 17 points. Graves added 14 points and prolific scorer Zach Otting chipped in 13 (3-for-9 shooting).
In the post, Chandler Folkerst just missed out on his third-straight double-double for Concordia. He recorded 10 points and eight rebounds.
The Bulldogs dip outside the conference on Saturday and host York College (6-3) at 4 p.m. on Saturday. The Panthers won last season's meeting by a score of 86-79 in a game played at the Freeman Center in York.