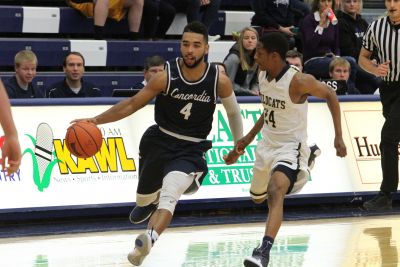 Birtell's career night lifts Bulldogs past DWU in overtime
It took overtime and a career night by Porter Birtell, but Concordia picked up a key 80-78 win over Dakota Wesleyan on Saturday evening in Mitchell. Birtell's 36 points helped Concordia snap a 3-game losing streak. The Bulldogs moved to 5-5 overall and 2-4 in GPAC play with the victory. DWU slipped to 7-5 overall and 1-4 in the GPAC.
Concordia led by as many as 14 in the first half. The Bulldogs used solid defense and a big half by Birtell (Madison, Neb.) to take a 33-25 lead into halftime. Dakota Wesleyan managed just 8-of-32 shooting (25 percent) in the opening 20 minutes, including just 1-of-8 from long range. Concordia was 11-of-26 from the field (42.3 percent) and 9-of-11 at the foul line (81.8 percent). Birtell scored 15 points on 4-of-6 shooting from the field and 7-of-9 shooting from the foul line in the opening half of play.
The Bulldog lead was quickly erased, as Dakota Wesleyan went on a 17-4 run in the opening four minutes of the second half to take a 42-37 lead. Bulldog guard Charles Dunbar (St. Louis, Mo.) had an answer for Concordia, scoring five straight points to tie the game at 42-42 with less than 14 minutes remaining in the contest. Dakota Wesleyan quickly responded with a 9-2 run, and a 3-point play by Justin Nelson gave the Tigers a 51-44 lead with 10:40 left in regulation.
Concordia pulled back within three (59-56) on a 3-point play by Birtell with just under eight minutes remaining. A DWU basket pushed the lead back to five, but a jumper by Beau Smith (McKinney, Texas) and a 3-pointer by Barrett Braun (Lakeside, Calif.) tied the game at 61-61 with just over four minutes to play. On DWU's next possession, Nelson answered with a layup to put the Tigers back on top. Kris Wilson followed with a layup to push the DWU lead back to four at 65-61 with three minutes remaining.
Tyler Byrd (Bennington, Neb.) pulled the Bulldogs back within two with a pair of made free throws. Following a turnover and missed field goal by DWU, Birtell made two free throws to knot the score (65-65) once again with two minutes left in the contest. The teams then traded layups. Jalen Voss put the Tigers in front, but Birtell responded with a layup of his own to make the score 67-67 with just over a minute remaining.
Following a Bulldog timeout, DWU reclaimed the lead with a layup by Mike Lee. On Concordia's next possession, Birtell secured an offensive rebound and scored to tie the score at 69-69 with 18 seconds left. The Tigers called a timeout to set up for the final shot. Lee missed a jumper, however, and the game was forced to overtime.
Birtell continued his strong night with the first four points in the overtime period. Following a DWU layup, a 3-pointer by Braun pushed the Bulldog lead to five at 76-71. The Tigers again cut into the Bulldog lead with a layup, but Birtell scored again to extend the CU lead back to five at 78-73. A 3-pointer by Kris Wilson cut the Concordia lead to two at 78-76, and a layup by Nelson tied the game at 78-78 with 30 seconds to play.
The Bulldogs used two timeouts down the stretch and with just three seconds remaining, a foul by DWU's Jalen Voss put Birtell at the line. The junior knocked down both foul shots to give Concordia the 80-78 advantage. A desperation shot by Wilson was missed at the buzzer, and the Bulldogs held on for the road victory.
For the night, Birtell scored his 36 points on 11-of-15 shooting from the field and 14-of-18 shooting at the foul line. Free throw shooting proved to be huge, as Concordia was 24-of-28 (85.7 percent) for the night. Birtell had almost as many free throw attempts as the entire Dakota Wesleyan team. The Tigers struggled from the line, connecting on just 13-of-23 on the night for 56.5 percent.
Braun (11 points) and Byrd (10 points) also reached double figures for the Bulldogs. Birtell added a team-best nine rebounds, while Byrd added four assists and seven rebounds. Smith struggled from the field, but delivered nine points and six boards in the Concordia win. The Bulldogs won despite hitting just 25-of-67 shots (37.3 percent) from the field overall and just 6-of-28 shots (21.4 percent) from deep.
Lee and Voss scored 18 points apiece for Dakota Wesleyan. Wilson (14 points) and Nelson (12 points) also reached double figures for the Tigers.
Concordia returns home to host York College on December 16. Tip is scheduled for 7 p.m. at the Walz Human Performance Complex.