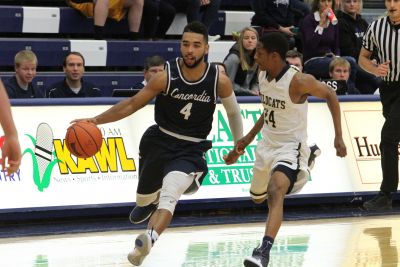 Birtell and Haywood combine for 59 points in 94-75 upset win over #14 Northwestern
Concordia led from start to finish and used career nights by Porter Birtell and Joel Haywood to pick up a key 94-75 men's basketball win over #14 Northwestern College on Wednesday evening in Orange City. It was the first win over a ranked team this season for Concordia, who improved to 8-7 overall and 4-4 in GPAC play. Northwestern dropped to 12-4 overall and 5-3 in GPAC play.
Concordia put together its best half of the season in the opening half of play. The Bulldogs came out firing in the opening minutes of the contest. Following a turnover on the first possession of the game, Concordia scored on seven straight possessions to take a 17-6 lead. A 3-pointer by Haywood (Lakewood, Colo.) gave the Bulldogs a 20-10 advantage with over 14 minutes remaining in the half. Haywood hit a pair of 3-pointers and scored eight early points in the contest.
A few minutes later, Haywood added a layup to keep Concordia in front by 10 (28-18), and a jumper by Beau Smith (McKinney, Texas) increased the Bulldog lead to 12 with 10 minutes to play in the half. A 3-pointer by Adam Vogt (Syracuse, Neb.) gave Concordia a 33-18 advantage, and a layup by Birtell (Madison, Neb.) gave the Bulldogs a 37-21 lead.
Later, a 3-point play by Birtell gave Concordia a 42-25 lead. The teams then traded a few baskets, and a nice move and finish in the paint by Birtell again gave Concordia a 17-point lead at 46-29. A free throw by Birtell gave Concordia a 47-29 lead, and Tyler Byrd (Bennington, Neb.) hit a floater in the lane to give the Bulldogs a 49-29 lead heading into halftime. Concordia was 63 percent from the field in the first half. Birtell scored 22 first half points on 8-of-8 shooting from the field. Haywood added 10 points in opening 20 minutes.
Northwestern scored on their first several possessions of the second half and pulled within 14 on multiple occasions. A long 3-ponter by Barrett Braun (Lakeside, Calif.) pushed the Concordia lead back to 17. Concordia held a 16-point lead with less than 10 minutes remaining in regulation, and a 3-pointer by Byrd pushed Concordia's lead to 69-50. Following a score by Northwestern, Braun connected on his fourth 3-pointer of the game to give Concordia a 20-point advantage at 72-52.
Birtell converted another 3-point play to give Concordia a 77-56 lead with seven minutes remaining, and another bucket by the junior post gave Concordia its largest lead of the game at 79-56. Northwestern went on a run and pulled within 15 on multiple occasions in the final three minutes. That's as close as the Raiders would get, however, as Concordia again stretched the lead back to 21 (94-73) with a minute remaining.
"We played pretty flawless basketball in the first half tonight," remarked Bulldog head coach Grant Schmidt. "Porter was a 1-man wrecking crew tonight. Joel showed how good he can be, and we got contributions from so many guys in this win tonight."
Concordia was 55 percent from the field and 81 percent from the foul line in the win. Birtell and Haywood each had career scoring nights to lead the way. Birtell poured in 37 points on the night. He was a perfect 12-of-12 from the field and 13-of-16 at the foul line. Haywood chipped in with a career-best 22 points after 5-of-10 shooting from the field and 9-of-10 shooting at the foul line. Braun delivered 14 points including the four 3-pointers.
Ben Miller had a double-double of 17 points and 10 rebounds for Northwestern. Stu Goslinga added 14 points, and Daniel Van Kalsbeek also reached double figures with 11 points on the night.
The Bulldogs return home to host 2nd-ranked Dordt College on Saturday. Tip is scheduled for 7 p.m. at the Walz Human Performance Complex.