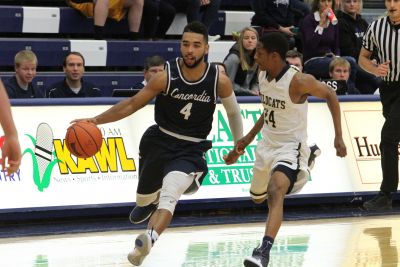 Big second half helps Concordia drop Bethany College, 84-73
The Concordia University men's basketball team used a huge second half to pull away for an 84-73 win over Bethany College on Saturday afternoon in York. Following a tough loss Friday evening, the Bulldogs played much better on Saturday as they improved to 1-1 on the young season with the win. Bethany College dropped to 0-2 with the loss.
Sam Huebner had a huge day to lead the Bulldogs in the victory. Huebner (Aurora, Colo.) poured in a game-high 27 points to pace the Concordia offensive attack. Huebner was 10-of-16 from the floor and 7-of-11 at the free throw line. He also added a game-high eight rebounds. Tyler Byrd (Bennington, Neb.) also had a solid offensive game for the Bulldogs. Byrd scored 21 points to go along with six rebounds and a game-high four assists. The junior guard was 7-of-12 overall and 5-of-8 from three point land on the day.
Transfer Barrett Braun (Lakeside, Calif.) also reached double figures for Concordia with 10 points. Braun was perfect from the field on the day, hitting all three of his shots from the field and both of his free throw attempts. Ryan Shrum (Allen, Texas) added nine points, and Brent Houchin (Bruning, Neb.) scored eight off the bench for a balanced Concordia offense.
Concordia was 25-of-45 (55.6 percent) from the field for the game. The Bulldogs were 9-of-20 (45 percent) from three point land and 25-of-32 (78.1 percent) at the charity stripe. The Bulldogs shot 15 more free throws than Bethany College, and the second half was the big story for Concordia offensively. The Bulldogs erupted for 55 points in the final half of play on an amazing 14-of-19 (73.7 percent) from the field. Concordia was 6-of-8 from behind the three point line and 21-of-25 from the foul line in the second half. The Bulldogs also held a 31-23 rebounding advantage in the win.
Bethany College was led by Haydon Parks' 19 points and five rebounds. Parks was 8-of-10 from the field on the day. Clayton Goggins added 17 points, and Trey Beachum delivered 12 points for the Swedes. Bethany was 27-of-55 (49.1 percent) from the field, 7-of-17 (41.2 percent) from deep and 12-of-17 (70.6 percent) from the foul line.