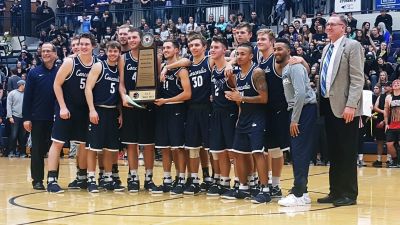 SEWARD, Neb. – A year ago the Bulldog men's basketball team breathed a sigh of relief when a potential CIT championship game-winning buzzer beater rimmed in and out. The 2017 edition of the Concordia Invitational Tournament championship game featured the same high-level intensity, but without the late-game drama. CUNE left no doubt on its way to an 85-58 title win over visiting Concordia University, Ann Arbor.
Fourth-year head coach Ben Limback has now guided teams to five CIT titles in his coaching career that also included nine years at the helm of Saturday's opposing program. The Bulldogs own a CIT record 27 all-time titles. The 2016-17 CUNE squad now stands at 15-8 overall on the strength of three-straight victories.
"It was definitely special," Limback said of coaching the Bulldogs at home in CIT for the first time. "There were a lot of great moments. You see all the alumni back and family and friends and your realize it's a special moment to be here at home. It's just an amazing crowd and a fun time that our guys had this weekend."
CIT MVP for the second year in a row, Chandler Folkerts shouldered only a small portion of the scoring burden in the championship victory. The big man showed he can also facilitate. In addition to his 11 points and 12 rebounds, The Chanimal kicked the ball out for seven assists.
After trailing 17-15 almost midway through the first half, the Bulldogs got rolling with a 33-9 run that put them in total control. During that spurt, Folkerts threw down an emphatic two-handed jam, but there were many contributors involved. Chris Johnstone twirled through traffic for layups and Seth Curran dropped in one of his three treys on the night in helping CUNE build a 50-30 halftime lead in front of a bonkers home crowd.
Knowing it was his final CIT, Folkerts would have scripted it to go down exactly this way.
"It's so awesome for our fans and for each other," Folkerts said. "To win in an environment like that is great. There's nothing quite like it."
This time out, it truly was a total team effort for CUNE. Curran paced the squad with 14 points. Three other Bulldogs registered in double figures: Folkerts, Justin Damme (10) and Kyle Pierce (10). As a team, CUNE shot 47.7 percent (31-for-65) from the floor while limiting CUAA to 41.1 percent (23-for-56). The Cardinals were just 2-for-11 from beyond the arc.
CUAA (9-15), led by 19 points from all-tournament selection Connor Phee, never cut its deficit to fewer than 15 points in the second half. CUNE snuffed out a potential comeback and got a measure of revenge for its 2015 CIT title loss to the Cardinals in Ann Arbor.
"First half we struggled a little bit early, but then I thought we started guarding better," Limback said. "Our defense was leading to offense. Seth Curran made some big threes in the first half. I thought Kyle Pierce and Jake Hornick gave us a good lift off the bench. Our bench this whole weekend was outstanding. The first half set the tone."
Shuck joined Folkerts on the all-tournament team. After posting 15 points, seven rebounds and four assists in Friday's victory over Concordia University, Chicago, Shuck added eight points, five rebounds and three assists in the championship.
The string of five-straight home games continues on Wednesday when the Bulldogs host Grace University (12-11) at 7 p.m. CT. CUNE has lost only once when venturing outside of conference play. The Bulldogs are 11-3 at home this season.
2017 CIT All-Tournament
MVP – Chandler Folkerts, CUNE
Eric Kittle, CUW
Mitch Pelissier, CUC
Connor Phee, CUAA
Tanner Shuck, CUNE