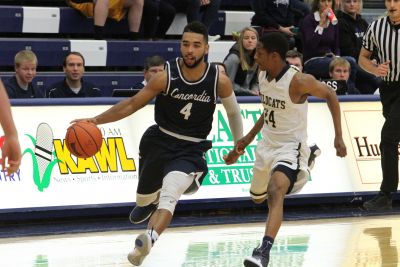 Balanced scoring, 12 3-pointers key in Concordia's 86-74 win over Friends University
A total of six players scored in double figures, and Concordia University picked up an 86-74 men's basketball win over Friends University on Saturday afternoon. The Bulldogs improved to 10-3 on the year with the victory.
The Bulldogs exploded for 45 points in the first half, going 15-of-37 from the field and 8-of-17 from long distance. Friends went just 11-of-32 (34.4 percent) from the field in the opening 20 minutes, and Concordia took a 45-31 lead into the halftime break.
Both teams scored over 40 points in the final half, but solid rebounding and free throw shooting by the Bulldogs proved to be the difference. Concordia finished with a 38-28 rebounding advantage. The Bulldogs went 17-of-20 (85 percent) from the foul line in the final half of play to help secure the win.
Concordia was 25-of-61 (41 percent) from the field for the game. The Bulldogs connected on 12 3-pointers, and free throw shooting also proved to be huge in the win. The Bulldogs finished 24-of-29 (82.8 percent) from the charity stripe overall. Concordia also totaled 20 assists on their 25 made field goals.
Ryan Shrum (Allen, Texas) and Brent Houchin (Bruning, Neb.) each poured in 19 points to lead the way for a balanced Bulldog offense. All six of Shrum's field goals came from deep, while Houchin went 5-of-9 from the field and 8-of-10 at the foul line. Sam Huebner (Aurora, Colo.) added 12 points and seven boards, while Barrett Braun (Lakeside, Calif.) finished with 11 points and seven rebounds. Andy Banahan (Steele City, Neb.) and Tyler Byrd (Bennington, Neb.) had 10 points apiece. Byrd dished out 10 assists for the Bulldogs in the victory.
Reggie Britton scored a game-high 26 points for Friends University. Sean Jantz and John Bridges also reached double figures for Friends in a losing effort.
Concordia returns to GPAC play on January 3 with a road contest at Northwestern College. Tip is scheduled for 8 pm in Orange City, Iowa. Both teams are tied for second in the conference standings with a 4-1 mark.