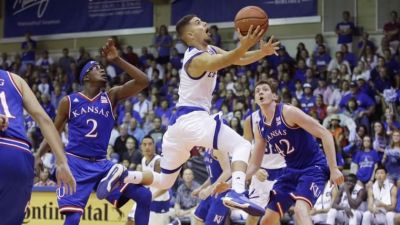 Chris Johnstone is what Concordia head men's basketball coach Ben Limback refers to as a "God recruit." It wasn't long ago that Concordia knew nothing about Johnstone, and Johnstone knew nothing of Concordia.
Surely it would take an act of God for someone to go from Sydney, Australia, to Honolulu, Hawaii, to Seward, Neb. That's exactly what happened in regards to Johnstone.
"Out of the blue he contacted me," Limback said. "He not only fit the profile of the type of impact guard we were looking for, but we fit him as a school that offered him a chance to play and offered a Christian atmosphere, which is something he was interested in."
Johnstone grew up in Sydney, where he was raised alongside his older brother Daniel by their mother Gina. (Chris and Daniel did not know their father). Sydney is where his love for the sport of basketball was born. It was the type of love that started at 12 years of age and grew to the point that he desired to follow that passion, no matter where it took him.
Australia is a hot bed for cricket and rugby. Those sports simply didn't have the same appeal as basketball did for Johnstone. He played rugby league in the seventh grade, but he didn't have time for it when his preferred sport took over his free time.
"In high school at lunch I would run to the basketball courts," Johnstone said. "I went to a Catholic school so I had to wear a suit and tie and I would be sweating all over. I just loved playing and would always play. All my high school friends would tell me I was wasting my time and say, 'Come and hang out with us.' I just wanted to play basketball, even if I was just shooting hoops by myself."
In Australia, Johnstone made the right connections. He got hooked up with a local coach who was like a father figure for him. Johnstone's coach pushed him to be a better person both on and off the court. With the guidance of a man who had once served as an assistant coach at Chaminade University, Johnstone's game took off.
He quickly learned that the "United States is where you go for basketball," and set out to realize his dream. A graduate of Marist Kogarah School in Sydney, Johnstone piqued the interests of several college recruiters despite the distance from America. He landed at NCAA Division II Chaminade in Honolulu. Few Division II school's gain the type of exposure generated by Chaminade, which hosts the nationally-televised Maui Invitational every year.
"Living in Hawaii was so cool. I loved going to the beach," Johnstone said. "It was like living in Sydney. Back home was a lot like that with the warm weather. I liked going on hikes. The basketball program was cool, too. I made lifelong friends over there, and playing on ESPN is such an awesome experience."
That's right, ESPN. Johnstone may be one of the only players to grace an NAIA roster that has scored points against the Kansas Jayhawks or has played on national TV. In a contest that took place in Maui on Nov. 23, 2015, Johnstone, then a redshirt freshman, tallied six points in four minutes of action against Bill Self's squad.
But Johnstone played in a total of only six games during the 2015-16 season and began to think he should look elsewhere. He estimates he sent emails to 15 to 20 different schools around the United States. He would have gone to West Virginia. Anywhere. He didn't care – about location. He just wanted a school that had what he wanted in terms of athletic, academic and social dynamics. He came close to ending up at Menlo College in California, but there was just something about that school in Seward.
"When I decided to transfer (from Chaminade) I was talking to a few schools," Johnstone said. "I felt like Concordia was the best place for me. I just had this sense. I took a visit out here. Everything fell into place. I was excited to come here."
Still, there are questions that beg answers: Why Nebraska? Why Concordia? For starters, a friend who played at Nebraska Wesleyan told Johnstone to take a look at Concordia. Johnstone did his homework, studied the roster makeup of the Bulldogs and shot an email to Limback, who quickly took notice. Soon after, Johnstone was on campus for a visit.
Though he says "it's completely different from Chaminade to here," Johnstone has already settled in while immersed in his new digs. He says the campus is livelier and closer knit than what he experienced at his previous school. Plus, now he has a great opportunity to run the show for Limback's Bulldogs. Johnstone brings more than just a kind-hearted personality and an Australian accent.
"He's still learning and adjusting to what we're trying to teach," Limback said. "He's very coachable. He wants to get better. He's very dynamic both offensively and defensively. I'm just so excited because he's got three more years. He's got a chance to be a pretty good player in this league and help us do some things."
Johnstone cited "defensive pest" first among the things he hopes to provide this Concordia men's basketball team in 2016-17. He's also a more than capable scorer as someone who averaged 23.9 points in Sydney's Ultimate Basketball League.
There's a lot to like about Johnstone, who has been highly adaptable no matter where he's been, although he does miss the garlic sauce dipped flatbread chicken that he used to devour in in his native country. His many stops, including a year spent training in Virginia where he met Milwaukee Bucks draft pick Thon Maker, have made him a more well-rounded and mature student-athlete.
"Moving around the world to a lot of different places teaches you a lot," Johnstone said. "I think travel is the best education. Your mind expands a lot when you travel the world and see different places and how different people interact with each other."
Soon Concordia's much-anticipated newcomer will be no secret. Limback thinks Johnstone will be up to the challenge. Says Limback, "He's been everything as advertised so far in terms of what we expected. I'm excited for him and for what he's going to do for our team."