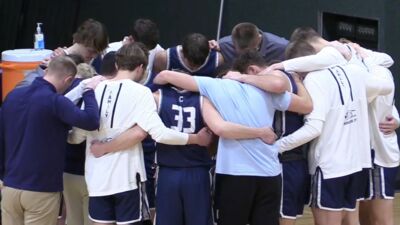 CHICKASHA, Okla. – The tenor of Friday (Dec. 30)'s contest in Chickasha, Okla., flipped dramatically in the middle of the first half once Tristan Smith was helped off the floor following an injury painfully visible to those who witnessed it. The turn of events saw the Concordia University Men's Basketball team run out to an 11-0 lead before eventually falling, 76-66, at the University of Science & Arts. Neither Tristan nor Gage Smith played over the contest's final 30-plus minutes.
Head Coach Ben Limback's squad (10-5 overall) went 1-1 on the southern swing with the victory coming by an 81-74 score at Texas Wesleyan University on Wednesday. Understandably, the focus was not so much about basketball after the game.
"I was so proud of our team, overcoming some of those emotions and still competing," Limback said. "We had guys playing in different positions and stepping up in lots of ways. That team's really good and they had to play through that emotion too.
"We prayed as a team right before we went back out. You try to get your emotions back in check. Tristan kept saying while he was laying there on the ground, 'I'm fine. Get the guys ready. We have a game to play. We've got to win this game.' We talked about competing like Tristan would want us to compete."
In following up his 32-point performance on Wednesday, Noah Schutte played 38 minutes while attempting to shoulder a heavy load. Schutte and company regrouped well enough after the lengthy break (due to Tristan's injury) to take a 31-29 halftime lead. The productive trio of Gerard Makuntae (20), Langston Gaither (20) and Samkelo Cele (17) combined for 57 points and took control of the game. The Bulldogs held onto a glimmer of hope when Garrett Seagren nailed back-to-back treys to cut the deficit to 70-62. After a Seagren steal, AJ Watson missed a trey that could have gotten Concordia within five in the final minute.
Considering the circumstances, a win would have been an especially impressive feat for the Bulldogs. It was a case of next man up. Off the bench, Seward High School product Kelly Vyhnalek took advantage of 21 minutes of action and totaled eight points, six rebounds and a steal. The two double-figure scorers for Concordia were Schutte (19) and Watson (10). Watson also dished out eight assists and swiped three steals. Seagren chipped in eight points (and two steals) thanks to his late flurry. Before departing the arena, Tristan Smith notched six points, three rebounds and a block.
Soon after the moment T-Ray was helped from the court, both teams gathered together in prayer. Gage then accompanied Tristan to a local hospital. As Tristan made mention of recently, "Our motto this year is family, which means, 'forget about me, I love you.' The team is like our second family."
The absence of the Smith brothers left an obvious void. The Bulldogs wound up shooting 36.4 percent (24-for-66) from the floor and hoisted 38 treys (made nine). Concordia still managed to win the rebound battle, 44-37, but was minus-three in turnovers (13-10). As for USAO (9-4), it played for the first time since defeating Texas Wesleyan, 106-89, on Dec. 14. The idle stretch may have played a part in the slow start for the Drovers, who trailed by as many as 13 points.
Said Limback, "We clearly weren't sharp, but I thought we competed hard. It showed the heart and the character of this team. When you lose a brother like that and you see the injury happen, that's pretty emotional. We'll keep praying for him and hopefully his recovery is not too long. We really don't know right now. Our biggest concern is making sure the Smith family is hanging in there."
The Bulldogs will return to conference play in the year 2023 as they look forward to a trip to Yankton, S.D., on Wednesday. Tipoff is set for 7:45 p.m. CT from Cimpl Arena, home to Mount Marty (5-10, 2-6 GPAC). Concordia will attempt to complete a season sweep of the Lancers having defeated them, 86-64, on the strength of a 38-22 rebound advantage in Seward on Dec. 7.