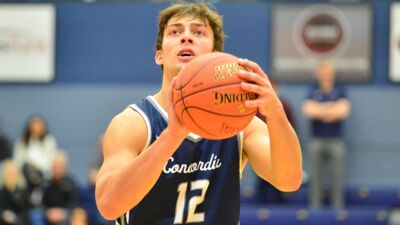 SEWARD, Neb. – The Concordia University Men's Basketball team hopes to build upon a 3-0 start as it enters the first full week of conference play. The Bulldogs made an early statement by blowing out No. 24 Briar Cliff, 78-58, in Sioux City, Iowa, this past Saturday. Concordia will be back at home to host Midland on Wednesday before a road trip to play at Dordt on Saturday. Head Coach Ben Limback's squad owns two nonconference wins (over KCAC members Tabor College and Ottawa University).
This Week
Wednesday, Nov. 16 vs. Midland (4-2, 0-0 GPAC), 7:45 p.m.
--Live Webcast/Stats | Max Country | Location: Friedrich Arena (Seward, Neb.)
Saturday, Nov. 19 at Dordt (5-0, 0-0 GPAC), 3:45 p.m.
--Live Webcast | Live Stats | | Max Country | Location: DeWitt Gymnasium (Sioux Center, Iowa)
By the numbers
· By the 14:47 mark of the first half, the Bulldogs had already built a double-digit lead at Briar Cliff. The lead remained in double figures the rest of the way and ballooned to as large as 30 points (70-40) midway through the second half. In the paint, Gage Smith set the tone for the game. He tallied 21 points and 16 rebounds. As a team, Concordia owned the glass, 48-27, while up against a Charger squad that returned four starters. Three other Bulldogs scored in double figures: Noah Schutte (17), Tristan Smith (13) and AJ Watson (13). Both Schutte (eight rebounds) and Tristan Smith (nine rebounds) just missed double-doubles. Joel Baker led the bench with seven points.
· Gage Smith's 21 points pushed him over 1,000 for his career. He's now the 34th player in the history of Concordia Men's Basketball to reach that mark. A native of Elizabeth, Colo., Gage has improved significantly over the course of his career. His point totals by season have been 46, 121, 361, 438 and 38 (for a cumulative of 1,004). Gage earned First Team All-GPAC honors last season when he averaged 13.7 points and 7.9 rebounds per game. So far this season, Gage is averaging 12.7 points and 13.7 rebounds while running his career rebound total to 675 (ninth most in school history).
· No one will be shocked if Schutte winds up leading this team in scoring. The Laurel, Neb., native broke out in 2021-22 when he averaged 13.9 points per game and was named to the NAIA Men's Basketball National Championship All-Tournament Team. Through three games this season, Schutte has posted respective point totals of 18, 26 and 17 while going 20-for-26 (.769) from the floor and 16-for-18 (.889) from the foul line. Schutte has totaled 595 points in his collegiate career, which followed a high school career that saw him surpass both 2,000 points and 1,000 rebounds at Laurel-Concord-Coleridge.
· Through three games this season, the Bulldogs are averaging 84.0 points per game while allowing 64.0. They are also shooting percentages of 48.9 from the field, 34.5 from 3-point range and 67.1 from the free throw line. Conversely, opponents are shooting 38.6 percent from the field, 20.3 percent from beyond the arc and 63.2 percent from the foul line. Four Concordia players are averaging double figures in scoring: Schutte (20.3), Tristan Smith (14.3), Gage Smith (12.7) and Brad Bennett (11.7). Watson is close at 8.0 points per game (in addition to a team high 5.7 assists per game).
· This is the start of year 10 for Limback as head coach at his alma mater. Now in his 19th season overall as a collegiate head coach, Limback owns a career record of 282-271 with a mark of 167-113 with the Bulldogs. Limback is coming off his finest season yet. The 2021-22 team went 28-7 overall, swept GPAC regular season and postseason championships and advanced to the national quarterfinals. Limback also led the 2019-20 team to a GPAC tournament title and national tournament appearance. Three of his Bulldog squads have reached at least 20 wins in a season.
The opponents
Midland made the switch from Oliver Drake to Tyler Erwin as head coach of the program following a 16-14 overall (7-13 GPAC) record in 2021-22. The Warriors were picked ninth in the GPAC preseason coaches' poll. The team's headlining returner is 2021-22 Honorable Mention All-GPAC guard Ryan Larsen, who is leading the team in scoring at 15.5 points per game. The Warriors are 4-2 to start this season with their most recent victory coming at Bellevue University, 66-62. Midland is averaging 74.5 points while allowing 74.7 points per game.
Dordt reached the opening round of the national tournament last season, which ended with a 20-11 (12-8 GPAC) overall record. A longtime head coach at Buena Vista University, Brian Van Haaften is in his fifth season leading the Defender program. Dordt brings back all five of its 2021-22 all-conference honorees, including first team selection Bryce Coppock. The Defenders are pushing the pace while out to a 5-0 start. They are averaging 96.8 points per game led by the 17.4 from Jacob Vis. Dordt has been netting an average of nine treys per game. The Defenders were picked fifth in the GPAC preseason poll.
Next week
During the week of Thanksgiving, Concordia will host Jamestown on Nov. 22 and then play on the road at Waldorf University (Iowa) on Nov. 26.