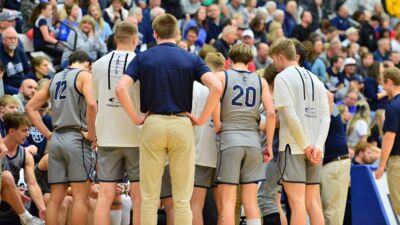 SEWARD, Neb. – A monster outing from Noah Schutte in the GPAC quarterfinals has the Concordia University Men's Basketball team riding high into the conference semifinal round. The Bulldogs torched the nets with 20 treys in Wednesday's 90-77 win at Northwestern. Concordia has now won four GPAC tournament games in a row dating back to last year's conference postseason championship run. Head Coach Ben Limback's squad (18-11 overall) is gearing up for a rematch with 11th-ranked Jamestown, which knocked off Hastings in its quarterfinal game. Saturday's semifinal tipoff is set for 3 p.m. CT from Newman Arena in North Dakota.
This Week
GPAC Quarterfinals – def. Northwestern, 90-77
--Webcast | Live Stats | Location: Bultman Center (Orange City, Iowa)
GPAC Semifinals – Saturday, Feb. 25 at No. 11 Jamestown (24-5), 3 p.m.
--Webcast | Live Stats | Location: Newman Arena (Jamestown, N.D.)
By the numbers
· Other than Concordia winning as a No. 5 seed, it was all chalk in the GPAC quarterfinals. Top seed Jamestown defeated eighth-seeded Hastings, 76-62, second-seeded Morningside got past intra-city rival and seventh-seeded Briar Cliff, 101-95, and third-seeded Dordt pulverized sixth-seeded Dakota Wesleyan, 93-66. Hopes of the Bulldogs repeating as GPAC tournament champions remain alive. Meanwhile, the Jimmies and Mustangs (shared the regular season title) aspire to do what Concordia did last season – sweep GPAC regular season and tournament titles. The results in the quarterfinals have ensured that the Bulldogs will be on the road for the remainder of their stay in the conference tournament.
· Noah Schutte put together a performance on Wednesday night that ranks among the greatest individual games in program history. His final stat line included 38 points, 18 rebounds and five assists. He also went 9-for-11 from 3-point range while breaking a program record for most 3-point field goals in a single game. According to available records, there had been five previous Concordia players to sink eight 3-pointers in a game, including current Bulldog Brad Bennett. The others are Josh Dahlke, John Puelz, Ryan Shrum and Bret Walter. As part of Schutte's GPAC quarterfinal explosion, he scored 16 points in the first half and then 22 in the second half. His 38 points and 18 rebounds reset the career highs he had posted in the previous contest – 36 points and 13 rebounds at Dakota Wesleyan. For those wondering, the school record for points in a single game remains 47 by Jon Ziegler (2007) and the standard for rebounds in one game is 30 by Gordon Bredow (1962-63 season).
· It was also a fine night for Gage Smith at Northwestern as he totaled 21 points, 11 rebounds, seven assists and two blocked shots. While Schutte went 9-for-11 from 3-point range himself, the Bulldogs were an incredible 20-for-37 from beyond the arc as a team. The hot shooting helped Concordia build a 53-35 halftime lead and then push the advantage to as many as 26 points (71-45) in the second half. Schutte and Smith combined to go 12-for-17 from beyond the arc, but they also had help. From downtown, Garrett Seagren canned 3-of-5 shots, Zac Kulus went 3-for-7 and Jaxon Weyand and Logan Wilson were both 1-for-1. Kulus and Seagren finished with nine points apiece. The Bulldogs managed to defeat a Northwestern (20-9) squad that went 11-1 at home during the regular season.
· In the win over Briar Cliff during the final week of the regular season, Gage Smith leapt Chandler Folkerts and moved to No. 2 on the program's all-time rebound list. Smith's rebound total now rests at 891, ranking him behind only Matt List (928). Folkerts grabbed 868 boards in his career. Gage also owns current program all-time rankings of 12th in assists (276) and 15th in scoring (1,348). The Elizabeth, Colo., native has played in 133 games since arriving with the start of the fall semester of 2018. Gage has played on two separate teams that won GPAC championships – the 2019-20 and 2021-22 editions.
· Schutte's season scoring average has jumped to 19.9 after back-to-back games with more than 35 points. The surge has pushed the Laurel, Neb., native up the conference lists. Among GPAC players, he ranks fourth in scoring average, fourth in 3-point field goal percentage (.465), eighth in rebounding (7.1) and ninth in field goal percentage (.544). For his career, Schutte has amassed 1,111 points and 445 rebounds while making 401-of-731 (.549) shots from the floor and 76-of-171 (.444) attempts from 3-point range. Schutte is a very likely First Team All-GPAC honoree and should draw strong consideration for All-America recognition.
· Concordia entered the bracket as the defending GPAC tournament champion and winner of two of the past three GPAC postseason titles. Last year's run through the GPAC tourney included victories over Morningside, 83-70, in the quarterfinals, Doane, 67-65, in the semifinals, and Jamestown, 77-70, in the championship game. Two years earlier, just before the COVID-19 shutdown, the fourth-seeded Bulldogs upset No. 11 Dakota Wesleyan, 68-66, in the 2020 GPAC tournament final. As a program, Concordia has won four GPAC tournament titles since the conference's first season in 2000-01. Former head coach Grant Schmidt guided the Bulldogs to GPAC postseason crowns in 2003 and 2005.
The opponent
Jamestown has already secured its bid to the national tournament after earning the GPAC's No. 1 seed. The Jimmies have enjoyed success on the national stage having reached the national quarterfinals in 2021 and then the national round of 16 in 2022. Head Coach Danny Neville's squad runs through big man Mason Walters, who is averaging 26.1 points and 9.8 rebounds per game. Jamestown surrounds Walters with plenty of strong perimeter shooters with the help of a backcourt made up of Will Cordes, Marc Kjos and Cole Woodford. Ranked 11th in this week's NAIA coaches' poll, the Jimmies sport a home record of 11-3 with the losses coming against Dakota Wesleyan, Doane and Dordt. Jamestown will be attempting to defeat Concordia for the third time this season. The Jimmies won the two regular season meetings, triumphing by scores of 90-59 in Seward and 69-64 in North Dakota. This will be a rematch of the 2022 GPAC tournament title game won by the Bulldogs, 77-70, in Seward.
Probable starters
Concordia (18-11, 11-9 GPAC)
G – Brad Bennett (10.6)
G – Garrett Seagren (6.6)
G – Jaxon Weyand (5.0)
F – Noah Schutte (19.9)
F – Gage Smith (13.2)
Head Coach: Ben Limback (297-282, 19th season overall; 182-124, 10th season at CUNE)
Jamestown (24-5, 15-5 GPAC)
G – Will Cordes (13.0)
G – Marc Kjos (8.8)
G – Cole Woodford (12.8)
G/F – Reid Gastner (9.9)
F – Mason Walters (26.1)
Head Coach: Danny Neville (8th season)
2023 GPAC Men's Basketball Tournament
Quarterfinals – Tuesday, Feb. 21 / Wednesday, Feb. 22
(1) Jamestown def. (8) Hastings, 76-62
(5) Concordia def. (4) Northwestern, 90-77
(3) Dordt def. (6) Dakota Wesleyan, 93-66
(2) Morningside def. (7) Briar Cliff, 101-95
Semifinals – Saturday, Feb. 25
(5) Concordia at (1) Jamestown, 3 p.m.
(3) Dordt at (2) Morningside, 3 p.m.
Championship – Tuesday, Feb. 28
Highest remaining seed hosts, time TBA