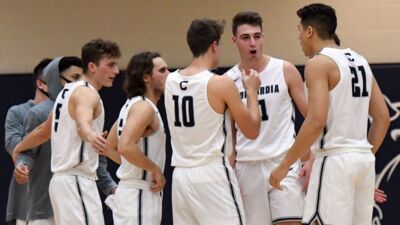 2021-22 Men's Basketball Schedule
SEWARD, Neb. – After playing a reduced nonconference slate in 2020-21, the Concordia University Men's Basketball program will return to a more standard 30-game regular season this coming winter. Head Coach Ben Limback and company have announced their varsity schedule for 2021-22 (as of June 17). The new campaign is set to open up Oct. 29-30 at the Hastings Classic.
This past season, the Bulldogs finished with an overall record of 17-9 while tying for third place in the GPAC regular season. With a 14-6 league mark, the 2020-21 team equaled a program record for most conference wins in a single season. All-GPAC honors went to Justin Wiersema (first team), Carter Kent (second team) and Gage Smith (second team). All three will return this winter.
Concordia will make its first home appearance of 2021-22 when it hosts the annual Cattle Classic (Nov. 5-6). Waldorf University (Iowa) and Benedictine College (Kan.) will serve as the opponents for that event. Additionally, the program looks forward to hosting the Concordia Invitational Tournament, which was wiped out this past season. The 2022 CIT will take place Jan. 28-29 in the newly renamed Friedrich Arena. Another major highlight of the nonconference schedule will be a trip to Daytona Beach, Fla., for the Daytona Beach Shootout just before Christmas.
Wiersema and company will tip off GPAC play on Nov. 13 with a trip to Briar Cliff. As usual, the GPAC regular season is made up of 20 league contests. The GPAC sent three teams to the NAIA national tournament in 2021. The Bulldogs hope to return to the national tournament after appearing on the national stage in 2020.
Dates for the GPAC tournament are set for Feb. 23 for the quarterfinals, Feb. 26 for the semifinals and March 1 for the championship game. The opening round of the national tournament will take place March 11-12 with action at the final site (Kansas City, Mo.) running from March 17-22.
2021-22 Nonconference Opponents
--2020-21 record in parentheses
· Benedictine College (Kan.) (21-7)
· Concordia University, Ann Arbor (8-12) OR Concordia University, Wisconsin (7-5)
· Concordia University, Chicago (5-11)
· Daytona Beach Shootout: two opponents to be determined
· Friends University (Kan.) (8-16)
· Presentation College (S.D.) (4-23)
Waldorf University (Iowa) (5-17)