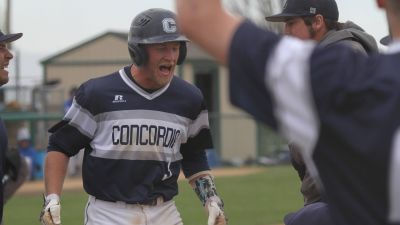 MITCHELL, S.D. – For the first time in his four seasons as a Bulldog, senior catcher Ryan Fesmire truly believed that winning a conference championship was an attainable goal. Fesmire even went as far to say that it would be a disappointment if the Concordia University baseball team did not end the conference title drought that dated back to 1986. On Saturday afternoon, Fesmire and his teammates completed the regular season by locking up at least a share of the GPAC crown.
In just three short years, head coach Ryan Dupic has built a championship program. In Saturday's action, the Bulldogs split a doubleheader at Dakota Wesleyan, winning game 1, 6-0, before dropping the second game, 6-5. Concordia ends the regular season at 30-19 overall and at 19-9 in conference play.
Said Dupic, "Our guys have showed great persistence … I couldn't be prouder of our team."
Added Fesmire, "It's huge, especially going from where we were freshman year. If you would have told me that sophomore year, I would have been like, 'I don't know if I believe it.' But we've done it."
While Concordia has fielded some of the best offensive teams in school history during Dupic's tenure, the growth of the starting pitching rotation has had been a big factor in the overall growth of the program. The Tigers were baffled most of the weekend by Bulldog hurlers, who fired three complete games in the four-game set. Wade Council was the latest to dominate. He went all seven innings of Saturday's game 1, allowing only three hits and two walks while recording his fourth shutout of the season.
Council got all the runs he needed in the third inning when Tyler Nelson drew a bases loaded walk and Fesmire and Johnny May both added an RBI single apiece. May came up big again in the fifth, delivering a two-out, two-run base hit. May and Jason Galeano both contributed two hits in the opener.
Game 2 was much more of a dogfight. The Bulldogs got down 4-0 and came all the way back to take a 5-4 lead in the seventh. The five-run frame was jump started by a RBI double from Nelson. Three batters later, the visiting dugout exploded. Casey Berg's liner to center got under the glove of a diving Tiger outfielder, clearing the bases in what resulted in a game-tying three-run double. Christian Montero followed by cracking an RBI single to right and a one-run lead.
Some defensive miscues by Concordia helped Dakota Wesleyan take the lead back in the bottom of the eighth. Reed Harter supplied the deciding blow when he sent a catchable drive to left center that fell in for a two-run single. Desmond Pineda ended up taking the loss though he pitched a solid 3.1 innings in relief.
The defeat in game 2 won't spoil what a special year it's been. The Bulldogs battled back from an 0-3 start to conference play and put together separate GPAC win streaks of nine and seven games. Concordia has also reached the 30-win mark for the first time in school history.
"It means a lot for everybody," Berg said. "It's been a tough time for Coach Dupic and his family. It's really great that we can do this for him and make it a little less stressful on him. We're finally GPAC champs."
Afterwards, Dupic had many players to name for a job well done.
"Wade threw the ball very well," Dupic said. "He changed speeds and we were solid defensively. I was pleased with our at bats, especially Montero and Nelson. We came ready to play and executed well. The second game was back and forth. We didn't quite execute as well as we had before, but I was pleased with the way we fought our way back into it."
The Bulldogs have earned the right to host in the conference tournament that will begin next week. Concordia and three other teams will be part of a four-team pod that will play at Plum Creek Park. Complete pairings will be released early next week when all GPAC games have been completed. Midland can still share the GPAC title with the Bulldogs if it can sweep Monday's doubleheader with Doane.