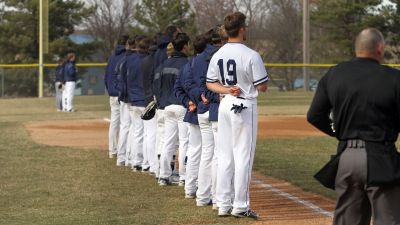 SEWARD, Neb. – With the weather the way it's been this spring, it's not safe to assume anything. However, four doubleheaders remain on the slate for this week. Two of them have been moved from western Iowa to the friendly confines of Plum Creek Park in Seward. Due to the rash of postponements, the GPAC has announced a reduction of the conference schedule from 28 to 26 games. As a result, the Concordia University baseball team will not play at Briar Cliff next Wednesday (April 25).
This week's schedule
Tuesday, April 17 vs. Dordt, 3 p.m. DH
Wednesday, April 18 vs. Briar Cliff, 2 p.m. DH
Saturday, April 21 at Doane, 1 p.m. DH
Sunday, April 22 vs. Doane, 1 p.m. DH
Because of uncooperative weather, head coach Ryan Dupic's squad has played only two games (doubleheader split at Morningside) since April 5. That just means the stretch run of the final two weeks of the regular season will be hectic. Seven GPAC doubleheaders are left to be played for the Bulldogs (17-14, 5-7 GPAC), who currently reside in eighth place in the bunched up league standings. Every GPAC team has at least 10 conference games remaining on their schedules. The many changes mean that Concordia has cut two nonconference contests with York College that had been on the original slate.
A turn in the weather could help the Bulldogs find a rhythm. Since conference play began on March 23, Concordia has not won more than two games in a row. Dupic's squad has had its most success when Nick Little has started on the mound. He tossed his sixth complete game already this season in last week's 10-4 victory at Morningside. Over 62 innings, Little is 6-2 with a 1.74 ERA and 53 strikeouts. On the flip side, Concordia's offense heated back up with a combined 15 runs on 18 hits at Morningside. The Bulldogs had averaged 3.2 runs over their first 10 GPAC games.
Dordt (7-17, 4-10 GPAC) and Briar Cliff (17-18, 6-10 GPAC) are the two teams directly behind Concordia in the GPAC standings. The Chargers actually vaulted to No. 1 in the official conference poll on March 19 before slipping to No. 8 this week. Dordt is No. 10 in that same poll. The Defenders are ranked at the very bottom of the GPAC in both ERA (6.68) and runs scored per game (3.5). Meanwhile, Briar Cliff checks in at No. 7 in both ERA (5.79) and runs per game (5.4) among league teams.
Doane (20-16, 10-4 GPAC) is looking to make the jump from eighth place in last season's final GPAC standings to conference champion in 2018. The Tigers average a solid 5.9 runs per game behind leading hitter Tommy Anderson, who is batting .425 with 13 doubles, two triples, three home runs and a .486 on-base percentage. Their ace pitcher has been Manny Armendariz, who owns a 3.22 ERA in 44.2 innings. He has worked as both a starter and reliever (two saves).
If all goes as planned, Concordia will conclude the regular season next week by hosting six more games, including a doubleheader with Midland (19-14, 7-5 GPAC) on April 24 and then a four-game series with Dakota Wesleyan (10-17, 6-8 GPAC) April 28-29. Home varsity games can be streamed live via the Concordia Sports Network.