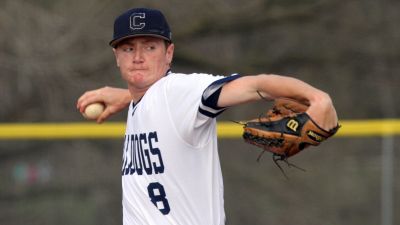 SEWARD, Neb. – It's on now. Perhaps it seemed like part dream or fairytale at one time, but it's gotten serious. With four games left in the regular season, the Concordia University baseball team has pulled even with Midland atop the GPAC standings. The Bulldogs closed the gap on Wednesday while getting a money performance from sophomore pitcher Tanner Wauhob in a 3-0 win over visiting Hastings.
Taking two from the Broncos over the past two days was a big deal. At the conclusion of Wednesday's victory, the team huddled in the dugout around head coach Ryan Dupic, who continues to deal with his share of difficult circumstances. "Let's get on the bus and get ready to roll," Dupic told them, in reference to this weekend's road trip. The team went nuts.
These are different times for the program. Concordia is now 27-18 overall and stands at 16-8 in the GPAC. The 16 conference wins are a single-season school record.
"Because of the health issues I've been fighting, I don't always get to see our guys all at the same time as much as I would like," Dupic said. "Those moments after games are fun to be part of. The joy the players experience together is one of the great parts of my job."
Both teams were short on their typical starting pitchers due to the wealth of games played in recent days. Dupic turned to Wauhob, a native of Sioux City, Iowa. He was ready. He blanked Hastings over 5.2 innings, allowing two measly hits. Anytime he didn't strike the Broncos out (seven K's), he had them beating the ball into the ground (six groundball outs compared to two fly outs).
Wauhob outdueled freshman pitcher Grant Svec, who was pretty good in his own right. But Svec had no margin for error with Wauhob slinging it on the other side.
"Coach just wanted me to attack right off the bat kind of like coming out of the 'pen," Wauhob said. "It just happened to be one of my nights where I was on a little bit. I had a great defense backing me up."
The Bulldogs failed to manage a hit against Svec through the first three innings. Then in the fourth, Svec retired the first two hitters before Concordia found two-out magic. Consecutive singles followed from Christian Meza, Jason Galeano, Wade Council (RBI), Jake Adams (RBI) and Tyler Nelson (RBI) in a contagious splurge.
Hastings (24-20, 13-11 GPAC) finally made its big push in the sixth. It loaded the bases with two outs against Wauhob. Dupic then made the call to Neil Ryan, who struck out Zack Peterson to end the threat. Desmond Pineda came on to throw the final inning, finishing off a combined two-hit shutout.
This was exactly the way Concordia wanted to polish off its schedule at Plum Creek Park, where it hopes to return to for GPAC postseason play. The culmination of the night was a special moment in the third base dugout.
"We're real excited," Wauhob said. "Especially with our coach going through what he's going through. He had a great attitude. He's ready to get on the road. We've got four more games. We've got to keep going."
All four of those games are slated to be played in Mitchell, S.D., this weekend. The Bulldogs will play a doubleheader at Dakota Wesleyan (16-26, 11-13 GPAC) at 5 p.m. CT on Friday. They will turn around and play the Tigers again in Mitchell at 1 p.m. on Saturday. Fellow GPAC co-leader Midland (34-16, 16-8 GPAC) has a four-gamer with Doane. Also in the hunt for the title, Morningside (30-19, 15-9 GPAC) will play four at Northwestern.