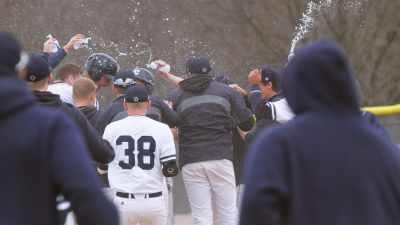 SEWARD, Neb. – Between games of Sunday's (April 22) doubleheader, head coach Ryan Dupic remarked, "Don't ask me what happened. This game is weird." The Concordia University baseball team staged an improbable comeback win of the walk-off variety in game one. The Bulldogs then completed the sweep of a Doane with another walk-off celebration in game two. Host Concordia won by scores of 6-5 and 5-4.
Dupic's squad won three of four games in the weekend series with the Tigers (24-19, 13-7 GPAC), who entered Saturday's action in Crete alone in first place. They are now two back of Northwestern (13-5) in the loss column. Meanwhile, the Bulldogs (22-17, 10-10 GPAC) strengthened their bid to reach the conference tournament.
In his 11 years of coaching, Dupic has never seen a day of baseball quite like this one.
"That was a first for me, especially the first game," Dupic said. "That was about as strange a game as I've been part of. We hung in there, got a few breaks and were able to take advantage of it. I thought we played better in the second game. We still did some things I wish we wouldn't have done, but sometimes there's something to be said for hanging around and finding a way to get a victory."
Concordia stole game one. Behind starting pitcher Manny Armendariz, Doane appeared on cruise control. It led 5-0 with two outs in the bottom of the sixth. The Bulldogs had not registered a single hit, but the entire complexion of the day changed when Armendariz left the game with an injury after throwing ball three to Wade Council. The wheels came off for the Tigers.
An inning later, Thomas Sautel's infield RBI single ignited the first walk-off party of the day. A few hours later, Brandon Cue forced in the game-winning run with a bases loaded walk. Concordia players reacted by spraying water bottles in a mob near the first base bag.
"It feels amazing," Sautel said. "Even one walk-off win is great so it's awesome to get two in the same day, especially against a good team like Doane. It's pretty exciting. Our team really played well today."
Sautel and company somehow pushed across six runs on only three hits in game one. The Bulldogs put together some patient at bats to load the bases with two outs in the seventh and final inning. Still trailing by three runs, Concordia cut into the deficit with a Meza walk with the bags full. Facing an 0-2 count, Evan Bohman flicked a two-run single through the right side to tie it up, 5-5. Sautel then swatted a tapper that the third baseman fielded off balance, providing enough time for everyone to safely advance.
Sautel drove in three runs and collected two of the team's three hits in game one. He also went 2-for-3 in game two, joining Meza (2-for-3), Logan Ryan (2-for-3), Keaton Candor (2-for-5) and Dylan Jacob (2-for-5) as Bulldogs with multiple hits.
Concordia also get another solid performance from Nick Little, who notched his eighth complete game in 10 starts this season. He covered all nine innings of game two, allowing one earned run on eight hits and two walks to go along with nine strikeouts. Dylan DuRee earned the win in game one after tossing 2.2 scoreless innings in relief of starter Cade Moring.
Doane's Eduardo Yanez delivered a pair of home runs in game two. Of course, the best individual performance put forth by either team on this day may have been the one offered up by Armendariz. No one will ever know if he would have finished off a no-hitter had he remained healthy.
"Obviously the game turned when their pitcher got hurt," Dupic said. "We hope he's OK. I think that probably breathed a little life into our team to be honest. At that point, I thought we showed some good discipline at times, waiting for the pitch to hit and having a couple big base hits.
"We've been splitting for a long time. Sometimes you just have to get a break and take advantage of it."
All six of Concordia's remaining regular-season games are slated to be played at Plum Creek Park. Up next is Tuesday's (April 24) 5 p.m. doubleheader with Midland (22-19, 10-10 GPAC). The Bulldogs will try to avenge the pair of defeats they suffered in Fremont on March 27.