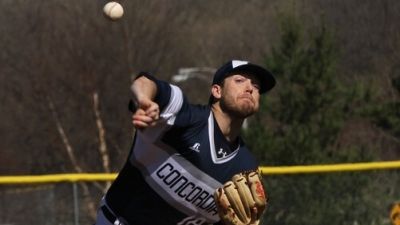 SIOUX CENTER, Iowa – In one of its most productive offensive days of the season, the Concordia University baseball team bullied Dordt in a GPAC road doubleheader sweep on Saturday afternoon. The Bulldogs racked up a combined 28 hits on the way to winning by scores of 14-3 and 15-3 in Sioux Center, Iowa. Both Concordia hurlers twirled complete games.
Second-year head coach Ryan Dupic's squad moved back above .500 overall at 18-17 and now stands at 4-2 in conference play. Through 35 games, the Bulldogs are averaging 7.8 runs per game.
"I was really proud of the way we pitched and defended," Dupic said. "Obviously we scored a lot of runs today, which we've done at times. One of the things we've been discussing lately is being better in the other facets. I thought Mark Harris and Cole Jackson both threw the ball really well. We turned a lot of double plays and did a really nice job defensively."
First baseman Kaleb Geiger went 5-for-8 with three doubles and a pair of RBIs as part of a big day out of the three hole. Leadoff hitter Alex Alstott highlighted game 1 with a grand slam that aided an eight-run fifth inning. Concordia also went wild on the bases, swiping eight bags – two from third baseman Casey Berg.
On the mound, Mark Harris and Cole Jackson combined to eat up all 14 innings. Harris scattered 11 hits and two walks while striking out seven in the opening contest. Jackson equaled Harris with seven punch outs. He limited the Defenders to five hits and two walks. On the other side of the coin, Dordt pitchers were tagged with 23 earned runs.
Defender hurlers had no answer for an improved Concordia offense that now stands 15 runs away from the single-season record owned by the 2015 team. Shortstop Logan Ryan went 4-for-4 in game 2. Alstott knocked in five runs in game 1. Taylor Dudley and Christian Meza drove in three runs apiece in the capper. Eight starting position players collected at least one hit in both games and Concordia scored at least one run in 10 of 14 innings.
Better results in the pitching and defense departments were also key to Saturday's runaway victories. It was exactly what Dupic had been looking for.
"It's huge. I'm not sure we've had two complete games in a doubleheader since I've been here," Dupic said. "All our bullpens guys are rested for tomorrow. It gives us a chance to be more aggressive in how we do things tomorrow. It's a big advantage heading into the next day."
The Bulldogs will be back at home on Sunday when they play host to Mount Marty (11-18, 2-4 GPAC) for a pair of games set to begin at 1 p.m. from Plum Creek Park. Concordia is 4-5 at home this season. Both of its home conference victories came via walk-off hits.