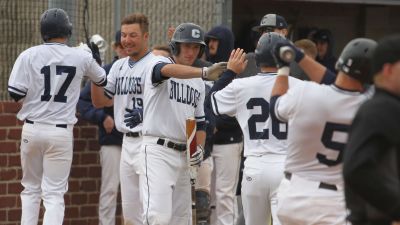 SEWARD, Neb. – The Concordia University baseball team is hoping for a break in the weather after postponing the home doubleheader it had scheduled with Morningside on Sunday. The Bulldogs have three GPAC twin bills set for this week, beginning with Tuesday's matchup at Midland. A four-game set with Hastings is slated to wrap up just before Easter Sunday.
This week's schedule
Tuesday, March 27 at Midland, 5 p.m. DH
Friday, March 30 at Hastings, 5 p.m. DH
Saturday, March 31 vs. Hastings, 2 p.m.
Fourth-year head coach Ryan Dupic's squad did manage to play at home for the first time this season while entertaining Mount Marty on March 23. The Bulldogs (14-7, 2-0 GPAC) swept the doubleheader, winning by scores of 10-2 and 7-5 behind rock solid pitching performances by Cade Moring and Nick Little. Moring struck out 15 hitters while allowing two runs on four hits and four walks in a seven-inning complete game. Little did not surrender a single earned run over his eight innings in game two. He gave up four hits and one walk and struck out three.
Concordia believes it will have an advantage this season in four-game weekend series, especially on the second day when its depth becomes an even bigger factor. Dupic's top four in the rotation have included Little (1.38 ERA, 39 innings), Moring (3.51 ERA, 25.2 innings), Jason Munsch (5.14 ERA, 14 innings) and Wade Council (5.89 ERA, 18.1 innings). Munsch and Council are just starting to find a groove. Munsch struck 11 hitters in his most recent outing and Council tossed a three-hit shutout at College of the Ozarks on March 18. Little has been the most consistent starter. He has fired at least seven innings in each of his five appearances.
At the plate, junior second baseman Christian Meza is red hot. He went 5-for-5 in game one of the doubleheader versus Mount Marty. He has strung together five games in a row with multiple hits. He's had two or more hits in 13 games this season and is hitting a GPAC best .470. Three teammates also rank in the top of the conference in batting average: Keaton Candor (.408), Thomas Sautel (.375) and Council (.368). Four Bulldogs rank in the top nine of the GPAC in slugging: Candor (.645), Council (.632), Meza (.627) and Kaleb Geiger (.597).
Tuesday's doubleheader in Fremont pairs two teams expected to challenge for the conference title. Midland won the 2017 GPAC tournament championship after finishing second to Concordia during the regular season. The Warriors (14-9, 2-0 GPAC) got off to a strong start in conference play by shutting out Dakota Wesleyan twice on Sunday. The Broncos (8-13, 0-0 GPAC) are scheduled to open up conference play at home against Doane on Tuesday. Hastings has been a bit challenged offensively, averaging 4.0 runs per game and sporting a .250 team batting average.
Next week's schedule also includes three conference doubleheaders. Midland will be at Plum Creek Park on Tuesday, April 3 for a 5 p.m. twin bill. The Bulldogs will then be on the road at Northwestern on Friday, April 6 and at Dordt on Saturday, April 7.