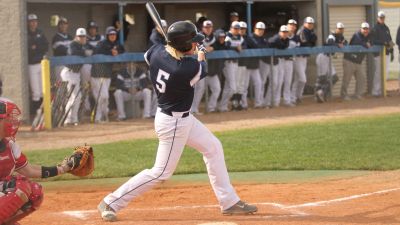 TUCSON, Ariz. – The Concordia baseball team competed in two games Thursday afternoon and took victories in both. The Bulldogs won 5-2 over Olivet Nazarene and 8-2 over Waldorf College. The wins pushed the Arizona victory total up to five.
Concordia improves to 10-10 this season and 5-3 on its Arizona trip. Olivet Nazarene is now 6-4 while Waldorf moves to 3-10.
Head coach Ryan Dupic said, "One thing we've really struggled with so far is our starting pitching and we got really good starts today. Mark Harris faced a really good offense today and pitched very well. Neil Ryan started the second game and pitched excellent as well. Pitching and defense were really good and clean today. We maybe didn't score offensively as much as we would've liked but I thought we did a pretty good job all in all."
In the first game against Olivet Nazarene Harris started on the mound and stayed there into the seventh inning. The senior gave up just two runs in his outings. Nic Seaman and Josue Melchor came in for relief and Melchor was credited with the save.
On the offensive side, Christian Montero was a homerun shy of hitting the cycle recording a double, single and triple. Also impressing in the contest was Alex Cargin who Dupic praised for his defensive and offensive efforts.
Ryan was the starting pitcher for Concordia in the second game of the day and did not let a single run cross the plate in six and two thirds innings. Todd Obertien, Seaman and Josh Prater finished the game out.
Taylor Dudley recorded three hits in the second game. Over the two tilts, Kaleb Gieger had four hits, including a double and a base clearing triple.
The Bulldogs will be back in action for their last outing in Arizona for the 2016 season tomorrow. Concordia will face Dakota State for a double header beginning at 10 a.m. CDT.