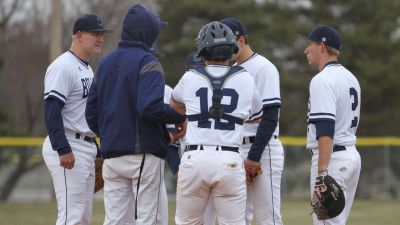 SEWARD, Neb. – The Concordia University baseball team is set to get familiar with Sioux City, Iowa, this week. The Bulldogs' next six games are all scheduled to take place in Sioux City. Concordia is slated to play at Morningside on Tuesday and then at Briar Cliff on both Saturday and Sunday as part of a four-game weekend series. A successful week could put head coach Ryan Dupic's squad back near the top of the standings in a wide-open GPAC title race.
This week's schedule
Tuesday, April 10 at Morningside, 5 p.m. (DH)
Saturday, April 14 at Briar Cliff, 1 p.m. (DH)
Sunday, April 14 at Briar Cliff, 1 p.m. (DH)
The Bulldogs will need to get on a roll if they are to repeat as GPAC regular-season champions. A 4-1 win over Northwestern in the second game of a doubleheader on April 5 was a good start. Senior lefty Cade Moring continued his prolific strikeout run by punching out 10 more hitters in a six-inning performance. In three starts against GPAC opponents, Moring has notched 36 strikeouts over 19 innings. His average of 14.81 strikeouts per nine innings ranks third best among all NAIA pitchers. Moring and Nick Little (GPAC best 1.31 ERA) have formed a solid 1-2 punch at the top of the rotation.
Now would be a good time for the bats to heat up. In nonconference games, Concordia has averaged 8.0 runs per game. That figure has dropped to 3.2 in GPAC play. Despite some recent struggles, the Bulldogs continue to lead the conference in runs per game (6.35). As a pinch hitter, Christian Clear provided a boost last week. In three pinch hit appearances, Clear singled twice and walked. His two-run single against Northwestern extended Concordia's lead to 4-0 at the time. Christian Meza (.404) tops the GPAC in batting average.
Morningside (11-16-1, 5-5 GPAC) is just above the Bulldogs in the league standings. The Mustangs are coming off a pair of home losses to Doane on April 7. Moringside's Nate Dechaine is one of the GPAC's most dangerous hitters. He is batting .368 with eight home runs and a .701 slugging percentage. Meanwhile, Briar Cliff (16-17, 5-9 GPAC) has dropped seven of its last eight with the lone win being a 4-0 triumph at Doane. Recently the Chargers spiked at No. 1 in the official GPAC rating released by the NAIA. Briar Cliff pitchers have been roughed up in conference play, allowing a .361 batting average and 16 home runs in 14 games.
The Bulldogs will also be busy next week with the slate including a doubleheader at Dordt (6-14, 3-7 GPAC) on April 17, a single home game versus York College (14-22) on April 18 and then a four-game weekend series with Doane (April 21-22), which leads the GPAC at 9-3 in conference play. Home varsity games can be streamed live via the Concordia Sports Network.