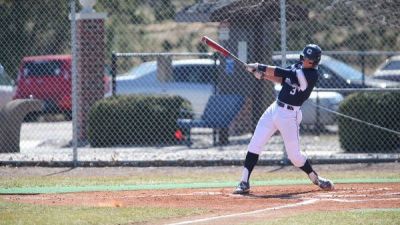 Season preview: 2015 Concordia baseball
At a glance
2014 Record: 16-30 overall; 6-14 GPAC (T-9th)
Head Coach: Ryan Dupic (1st year)
Key Returners: 1B Zach Cambier, INF Alex Cargin, OF Taylor Dudley, RHP Will Holbrook, LHP Jaydee Jurgensen, C Sean McCartney, OF Daniel Wilkerson
Key Losses: OF Camaren Gause, RHP Jordan Stirtz 
Key Newcomers: OF/P Alex Alstott, SS/3B Casey Berg, LHP Taylor Bickel, INF Kaleb Geiger, P Mark Harris, P Neil Ryan
2014 GPAC All-Conference: Camaren Gause (second team), Andrew Yerrell (second team), Taylor Dudley (honorable mention), Will Holbrook (honorable mention), Jordan Stirtz (honorable mention), Daniel Wilkerson (honorable mention)
Outlook
For the first time since the 1999 season, the Concordia University baseball program welcomes a first-year head coach. Enter Ryan Dupic who spent seven seasons helping Buena Vista University become a power in NCAA Division III's Iowa Intercollegiate Athletic Conference.
The Bulldog baseball program has ascended significantly from where it sat in the decade of the 1990s. Now Dupic and company hope to raise it another level. While still getting his feet wet and finding a feel for a roster that was mostly inherited, Concordia's new skipper won't put a ceiling on what 2015 might bring.
"My expectations are very high," Dupic said. "I don't want to put a limit on our guys because I feel like I'm still getting to know them. I don't want to list any kind of win limit, because then it's – where do you go after that? I don't want to do it too low. I don't want to do it too high. We're really just trying to take things a day a time right now and focus on getting better."
With Dupic's arrival comes a new approach on how to get better. There has been little talk this offseason about winning and losing. Rather, a premium has been placed upon the processes that lead to success on and off the field. Everything is done with a specific purpose in mind.
"I'd say the biggest change would have to be our practices," junior middle infielder Alex Cargin said. "A common theory is that the amount of practice is correlated to improvement. We found that's not true. We shortened our practice times down in order ensure 100 percent focus and 100 percent effort in everything we do."
A new coaching staff and a significant roster overhaul have signaled a reboot of Bulldog baseball. But there are plenty of familiar names back in the fold. Cargin (.408 on-base percentage in 2014) is expected to anchor the middle infield while other productive offensive contributors such as first baseman Zach Cambier (.295 BA) and outfielders Taylor Dudley (.344 BA) and Daniel Wilkerson (five home runs) provide middle-of-the-order punch.
As for the pitching staff, right-hander Will Holbrook (3-7, 4.28) and lefty Jaydee Jurgensen (2-5, 5.08) figure to be key components for Dupic, who helped Buena Vista's Scott Harris develop into a MLB draft pick.
The first challenge for Dupic was getting his new group of players to buy in. Members of the pitching staff have already given the new Bulldog leader rave reviews for his expertise in that department. According to coaches and players, fruitful relationships have been built and are in the process of being strengthened.
"I think it takes players being willing to change," Dupic said of building a winning program. "That's a challenge for anyone, myself included. You have to be open to doing things a little bit differently, not necessarily banging our heads against the wall and trying the same old stuff. We have to get out there and consider ways we can do things better, but also work a little harder. As we think about this season that's what we're really trying to focus on and then in years to come it's going to be combining that with being effective on the recruiting trail."
Soon the focus will be on nailing down the positioning of personnel across the diamond. On the infield, Cargin projects as a likely second base option with the ability to shift over to short. Cambier started all 46 games at first base last season in a solid first full season as a starter. He is being pushed by sophomore Tyler Nelson, a lefty bat. Among holdovers, sophomore Josh Mondt (.226 BA) and junior AJ Peterson (.318 BA) should factor into the equation. Mondt saw extensive action at shortstop as a freshman.
Then there are newcomers such as sophomore Casey Berg (Manning, Iowa), freshman Kaleb Geiger (Sedalia, Colo.) and junior Drew ten Bensel (Seward, Neb.). Dupic says ten Bensel enjoyed an impressive fall season at second base. Meanwhile, Geiger is a hard-working rookie and Berg is an athletic player with potential to be "special," according to Dupic.
In the outfield, Dupic could choose to go long on experience by throwing Dudley, Wilkerson and senior Cole Stuerke out there at the same time. Dudley broke loose with a big sophomore season after beginning the campaign as a reserve. On the other hand, Wilkerson possesses the team's biggest power bat and Stuerke is making the transition from infield. Dupic mentions juniors Alex Alstott (Fort Dodge, Iowa) and Taylor Bigandt (Littleton, Colo.) as additional outfield possibilities. Alstott may even be the most athletic player on the roster.
The catching position will likely shared by senior Sean McCartney (.330 OBP) and Ryan Fesmire (.290 BA). Says Dupic, "I think ultimately it will be about who can be the most consistent between the two guys, but we're going to need both of them without a doubt. You play some many games. I want to see who can be consistent and who can do the best offensively there."
After posting a 6.36 team ERA last season, the pitching staff hopes to rebound with Holbrook and Jurgensen leading the way. Fellow seniors Heath Benker and John-Jay Silva represent experienced options out of the bullpen, but plenty of openings are there for the taking. First-year Bulldogs in the form of freshman lefty Taylor Bickel, junior righty Mark Harris and freshman righty Neil Ryan have the potential to make immediate impacts.
"We expect it to be very good," Dupic said of the pitching staff. "We want to set the bar as high as we possibly can. That's something that we've established from the beginning. We haven't talked a tremendous amount about specific numbers. Right now we're just focused on our habits and making sure we have a good culture within our pitching staff. I think it is going to start with the experienced guys. Will (Holbrook) needs to be a top-flight arm within our league."
The development of Bulldog hurlers could have a lot to say about how year one unfolds under Dupic. Last season's squad ranked fifth in the GPAC in runs per game (5.83), but finished 10th in both ERA (6.36) and fielding percentage (.925).
With an offseason focus on fundamentals and improving its infield defense, Concordia believes it will see immense progress in the run prevention department. It's one of many reasons for optimism in 2015.
"We have a fresh start," Cargin said. "We have a new coaching staff and new players. There's a new mentality. There's that saying, 'it doesn't matter whether you win or lose – it's how you play.' Honestly, that doesn't apply to us anymore. We're not scrappers anymore. We have a good team and I'm proud to take the field with those guys.
The new era of Concordia baseball is officially set to get started on Saturday (Feb. 14) when the Bulldogs play a pair of games at Bethany College.
"My expectations are that we compete hard and have great work habits and are very selfless in the way that we play," Dupic said. "We haven't talked much about winning quite frankly. I think that's a byproduct of doing things the right way."