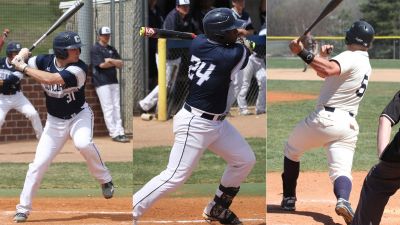 With a booming drive that peppered the right center field scoreboard for a grand slam, Kaleb Geiger elevated the Concordia offensive attack to a level never seen before in program history. For the second-straight year, the Bulldog bats have broken the school single-season standard for most runs scored. In seven fewer games, Concordia has pulverized seven more home runs than it hit in all of 2015.
While some teams such as nationally-ranked Sterling College have successfully held the Bulldogs in check, the offensive highs have been something to behold. Twelve times this season second-year head coach Ryan Dupic's squad has cracked double digits in runs.
"I personally think we have power up and down the lineup," Geiger said. "I think there are a lot of guys who can hit for power, even Johnny May. When you have an eight-hole hitter hitting bombs it can be scary. With (cleanup hitter) Christian Montero and even Alex Alstott our leadoff, there's power everywhere. That makes us hard to pitch to when we're on."
It was fitting that Geiger's blast in Sunday's blowout of Mount Marty pushed Concordia past the school standard. Behind Geiger, the team's most improved hitter, the Bulldogs are averaging nearly eight runs per game while getting on base at a better than .400 clip. Over the weekend, they pushed their GPAC win streak to five by white-washing Dordt and Mount Marty by a combined total of 47-6.
Concordia has come alive with a deep lineup bolstered by the power of Geiger and Montero, the on-base skills of Alstott, the steadiness of the likes of Casey Berg, Ryan Fesmire Christian Meza and Logan Ryan and the seemingly out-of-nowhere spectacular play of sparkplug center fielder Johnny May. On Sunday Dupic trotted out a lineup complete with six Iowa natives and a transfer from Iowa Central Community College while finding a formula that works.
May, the team's version of Benny "The Jet" Rodriguez, admits that he may not even be playing baseball right now if not for Dupic's relentless pursuit. Despite a solid high school career for powerhouse Johnston High School (Iowa), May flew under the radar. That remained the case for the early part of the season until May stated his case for increased playing time in dramatic fashion. He drilled a walk-off home run in a win over Briar Cliff on April 3. Plus he runs like Nebraska wind gusts and seemingly does all of the little things well.
"I came here as a freshman honestly just hoping to travel with the team," May said. "There are a lot of upperclassmen that have been in the program and have spots pretty much locked up. I just came in looking for a travel spot. Getting to play is a big step. It's definitely rewarding."
In the middle of the lineup, Geiger has teamed with Montero (Santo Domingo, Dominican Republic) for a physically imposing three-four. They've combined for 11 home runs. Geiger is slugging .694 while Montero sports a .598 clip. Together, they have helped stake the Bulldogs to early leads. Says Montero, who is well behind the struggles of his freshman year at Iowa Central, "We've been putting good at bats together and getting on base. We put pressure on pitchers early in the game. Even if it doesn't work out early in the game we know that we're going to eventually be able to produce some runs, but I think the key has been putting pressure on other teams' pitchers early in the game."
Geiger has skyrocketed his power numbers by becoming more powerful in the weight room. He's up 25 pounds and the contact lenses he got over the summer have sharpened his eyes at the plate. The Sedalia, Colo., native who received much more recruiting interest as a wrestler is leading the conference in on-base percentage (.520) and spearheading the most prolific offense Concordia has ever seen.
It's still early, but the team picked ninth in the GPAC preseason poll currently owns a share of the conference lead. The Bulldogs hope the opening weekend of conference play can be looked back upon as a turning point with the walk-off wins serving as signature moments for a program on its way up. The May cannon shot to left that ignited a water cooler shower on the third base line may have only been a beginning.
"I definitely think it gave us a lot more confidence," May said. "There was talk about how good other teams in our conference were going to be and stuff like that, but we saw how good we can be if we put all aspects of the game together – pitching, defense and hitting. We saw that if we put them all together we can be a lethal team."
Those weapons were on full display last weekend. The runs scored record was simply evidence of a burgeoning offensive team. Says Geiger, "When our offense is on and everyone stays within themselves, we're really dangerous."