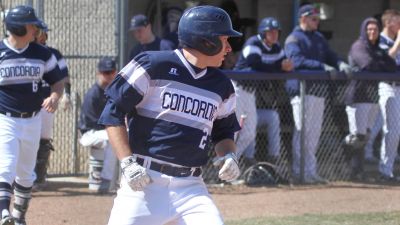 SEWARD, Neb. – A doubleheader split with Dordt on Tuesday (April 17) essentially summed up an inconsistent run through the first 14 games of the GPAC season for the Concordia University baseball team. They cruised to a 12-6 victory in game one before struggling to come through with the clutch hit in game two – a 3-2 Defender win.
Tuesday's contests were originally scheduled to be played in Sioux Center, Iowa, but were moved because of less favorable conditions up north. Fourth-year head coach Ryan Dupic's squad sits at 18-15 overall and at 6-8 in conference play.
"That first game we played really well offensively and had a lot of good at bats," Dupic said. "The guys hit the ball hard and found some holes at times, too. Obviously getting off to such a good start gave us a chance to attack more on the mound. We had good at bats across the board."
The Bulldogs mashed in the opener. Thomas Sautel chased the outfielders to the gaps all afternoon. He sprayed three doubles in game one and added a triple in game two as part of an 8-for-9 day. Concordia couldn't have started any better while pushing across six runs in the top of the first.
Despite not putting forth his best effort of the campaign, Nick Little stuck it out and worked his seventh complete game. He scattered 11 hits, allowing five earned runs. He pitched scoreless frames in the fifth, sixth and seventh and ended up with eight strikeouts.
Between whiffs, the Defenders did just enough offensively in game two. They were set down on strikes 13 times by Cade Moring, who has been one of the most difficult pitchers to make contact off of in the NAIA. Dordt got the run production it needed in the capper from Colton Van Otterloo, who singled in one in the third and doubled in two in the fifth.
Van Otterloo's bat helped make a winner of Isaac Vander Hart. He fired 5.1 innings, surrendering only two runs (one earned) despite giving up seven hits and four walks. The Defenders (8-18, 5-11 GPAC) were also fortunate to escape the top of the seventh. Concordia loaded the bases with no outs following a single apiece by Christian Meza and Sautel and then a Kaleb Geiger walk. Reliever Trent Roose wiggled out of the jam thanks to a double play in which Meza was gunned down at the plate and a grounder for the game's final out.
The loss spoiled another four-hit game for Sautel, who has settled into the cleanup spot in the lineup and is now hitting .362 for the year.
"He's a good kid. He works really hard," Dupic said. "It's never an issue with his work ethic. Today it just kind of came together. He was really in rhythm. He put some good swings on the pitches he got and barreled things up."
Meza put together a 5-for-9 day that included three runs scored. Out of the No. 8 spot in the lineup, Johnny May went 3-for-5 with a pair of walks. As part of game one, catcher Brandon Cue recorded two hits and Christian Clear contributed a two-run, pinch-hit single.
The Bulldogs will host another doubleheader on Wednesday (April 18) when Briar Cliff (17-18, 6-10 GPAC) visits Plum Creek Park for a 2 p.m. CT first pitch. The two sides were originally scheduled to play a four-game series in Sioux City, Iowa, this past weekend.