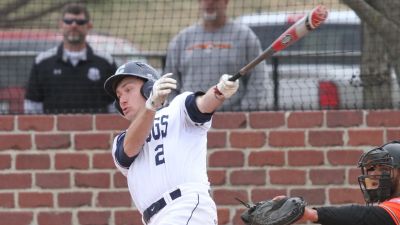 SEWARD, Neb. – On Tuesday (April 24), junior Thomas Sautel became the fourth member of the Concordia University baseball team to earn a GPAC weekly award this spring. A red-hot week at the plate resulted in Sautel being named GPAC/Hauff Mid-America Sports Player of the Week. Other Bulldog honorees in 2018 include Nick Little (March 6), Wade Council (March 20) and Christian Meza (March 27).
A native of Littleton, Colo., Sautel has taken well to a full-time role this season. Last week he went 17-for-34 with six runs scored, three doubles, one triple, one home run and 13 RBIs. He opened the week with an 8-for-9 performance in a doubleheader with Dordt. He also produced a walk-off RBI single as part of a twin bill sweep of Doane on April 22. Last week's eight-game run raised Sautel's season batting average from .312 to .362.
A transfer from Indiana Wesleyan University, Sautel ranks second to Meza (.421) on the team in batting average. He has also recorded four home runs and 33 RBIs and sports an on-base percentage of .439 and slugging percentage of .500. Sautel has started 37 of 39 games on the year.
Sautel and the Bulldogs are set to return to action today (April 24) with Midland coming to Seward for a 5 p.m. doubleheader.
Concordia baseball GPAC players/pitchers of the week
April 24 – Thomas Sautel (player)
March 27 – Christian Meza (player)
March 20 – Wade Council (player/pitcher)
March 6 – Nick Little (pitcher)