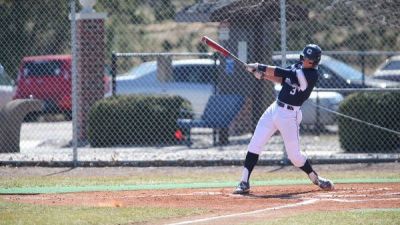 Santa Fe nucleus fuels Concordia baseball sweep
LINDSBORG, Kan. – Santa Fe, Texas, natives Daniel Wilkerson and Andrew Yerrell both drove in four runs apiece to power two Bulldog victories over host Bethany College (6-5) in Lindsborg, Kan., on Monday afternoon. Concordia (2-2) salvaged a split of the four-game Sunday-Monday series, winning the final two games by scores of 16-14 (nine innings) and 5-2.
"Those guys were able to produce today and it made a big difference," 17th-year head coach Jeremy Geidel said of Wilkerson and Yerrell. "Plus (shortstop) Alex Cargin at the top of the lineup did a good job having quality at bats and getting on base. Having those guys produce is huge."
A day after putting up two combined runs as part of a doubleheader sweep by Bethany, the Bulldogs wasted little time getting on the board with Wilkerson's three-run homer (first of two four-baggers on the day) to right in the top of the first of game one. It was a sign of things to come in a contest that featured 30 combined runs and took more than four hours to complete.
The wacky game saw Concordia relinquish leads of 11-8, 12-11 and 14-12 before it finally staved off the Swedes in the ninth inning (two extra innings). Sean McCartney delivered the game-winning RBI single in the top half of the ninth and reliever Edwin Izumigawa put up a rare zero in the bottom half to earn the win on the mound.
"I haven't seen a (wild) game like that where we continued to battle the way we did," Geidel said. "To come back and play another nine-inning game after a 10-inning game yesterday – they really showed me something I hadn't seen before. Then they came out in the second game and laid it on the line again."
Yerrell enjoyed a fine day at the plate, going 4-for-8 with four RBIs and two runs. His two-run single in the fifth inning of game one helped open the floodgates as part of a six-run frame that put the Bulldogs in front 11-8. Yerrell and Wilkerson have served as the 3-4 hitters in the lineup in each of the first four games of the season.
While Bethany outhit the Bulldogs 18-12, Concordia made up for it by taking advantage of five Swede errors that led to six unearned runs.
After missing last season because of surgery, Bulldog right-handed pitcher Jordan Stirtz returned to the mound in game two to calm things down. He fired a complete game, allowing two runs (one earned) on eight hits and two walks. He struck out two.
"It's great to see Stirtz do that in his first start in over a year," Geidel said of the fifth-year senior. "To see 'grandpa' come out and do a great job like that was impressive. It was a long year for him emotionally having to sit out. Today was very fulfilling for him."
The Swedes got on the board first in game two as a run crossed the plate with the aid of a Bulldog error in the second. Concordia responded with four runs in the third thanks to run-scoring hits produced by catcher Ryan Fesmire and Yerrell.
After Bethany got one back in the fifth, Wilkerson stroked his second homer of the day to lead off the sixth. It was the sixth career homer for the muscular right fielder, who has already equaled a career best for homers in a season.
"Wilk has that power," Geidel said. "He's grown into a college hitter."
Bethany flashed some power of with four home runs of its own on Monday – all by different individuals. Jordan Geiger and Aaron Huerta both clubbed four hits in game one for the Swedes.
In addition to the big days from Wilkerson and Yerrell, Cargin went 3-for-8 with four runs while leading off both games.
The Bulldogs return to action on Saturday with another venture into the state of Kansas. Concordia begins a three-game series with Ottawa University (0-0) on that day at 1 p.m. The Braves are a member of the NAIA's Kansas Collegiate Athletic Conference.