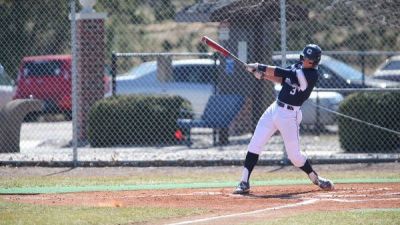 Ryan tosses second shutout on opening day of GPAC season
SEWARD, Neb. – There may not be a hotter collegiate pitcher in the nation than Concordia freshman Neil Ryan. On Saturday the rookie hurler continued his run of dominance by firing a three-hit shutout to help the Bulldog baseball team salvage a split in its GPAC-opening doubleheader with visiting Dordt (7-11, 1-3 GPAC) in Seward on Saturday evening. After letting a three-run lead slip away in an 8-6 game 1 loss, Concordia responded with a 4-0 victory to end the day.
First-year head coach Ryan Dupic's squad moved to 15-7 overall and 1-1 in conference action. The Bulldogs are 5-1 at Plum Creek Park.
"The first one didn't finish the way we would have liked," Dupic said. "I thought we played really, really well for about six innings. Then things got away from us a little bit. Neil really picked us up in the second game. He threw a good ballgame. He toughed it out there the last few innings. It's a nice way for us to get some momentum heading into tomorrow."
Ryan, who has allowed one earned run or fewer in each of his first five collegiate starts, mystified a Defender squad that entered the weekend leading the conference in both batting average and runs per game. Ryan expertly changed speeds and struck out nine compared to three walks. The native of Grand Junction, Colo., is 4-0 with a microscopic 0.83 ERA in 32.2 innings this season.
"I was really just trying to execute every single pitch and not really think about anything else," Ryan said.
Concordia built its 4-0 lead by scored one run apiece in each of the first four innings. Left fielder Taylor Dudly (2-for-3 in game 2) got the Bulldogs on the board with an RBI single in the bottom of the first. Second baseman Alex Cargin and designated hitter Taylor Bigandt also added run-scoring hits in the victory. Cargin went 2-for-3 out of the No. 9 spot in the lineup.
Concordia dropped the opening game despite pounding out 11 hits and taking a 6-3 lead to the seventh inning. But for the first time all season, the Bulldogs failed to close out a game in which they had they advantage after six frames. The inning began with four-straight walks (one by starter Jaydee Jurgensen and three by closer Edwin Izumigawa).
Dordt's Nate Forseth then singled in a run and another came in a grounder that was booted by a Bulldog infielder. Reliever Heath Benker preserved a 6-6 tie by inducing a 1-2-3 double play to close the top of the seventh. An inning later, Defender center fielder Jake Thayer struck for the game-winning two-run single. Concordia put two runners on in the eighth but failed to score.
In game 1, four different Bulldogs notched two hits apiece: Taylor Bigandt (2-for-4), Zach Cambier (2-for-4), Ryan Fesmire (2-for-4) and Alex Alstott (2-for-5). Jurgensen, who last week struck out 12 hitters in a complete game win, surrendered four runs (all earned) on six hits and three walks in his six-plus innings of work. Izumigawa was tagged with his first blown save.
The Bulldogs turn around quickly as they get set to head to Yankton, S.D., on Sunday for a 1 p.m. doubleheader with Mount Marty (17-10, 1-1 GPAC).