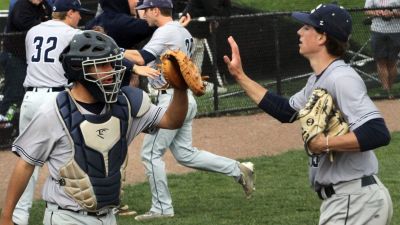 CRETE, Neb. – After a rough first three-game start to the weekend, the Concordia University baseball team got just what it needed from sophomore right-handed hurler Neil Ryan. The native of Grand Junction, Colo., mesmerized opposing batsmen in leading a 5-0 shutout in game 2 of a doubleheader at Doane on Sunday afternoon. The victory eased the pain of a 13-0 loss to the host Tigers in game 1.
Second-year head coach Ryan Dupic's squad entered the weekend tied atop the league standings with four other teams. Now 23-23 overall and 9-7 in GPAC play, the Bulldogs sit in fourth place. The victory was Concordia's first over Doane since April 14, 2009.
"(A win) would be real big just to get us back rolling," Dupic said as the team sat through a lightning delay late in game 2 (the game was called in the top of the eighth). "There are so many games in such a short time. There's not a lot of time to practice. It's quick turnarounds. From a confidence perspective it would be a good deal."
Exiled to the bullpen after early-season struggles, Ryan made his first start in more than a month. He dominated the first six innings of the contest while commanding his fastball and breaking stuff. He struck out five and allowed just two hits. It was a major breakthrough for Ryan, who had been charged with 24 earned runs over 29.2 innings prior to Sunday.
"He's really stuck with it," Dupic said of Ryan. "Sometimes you have to step back a bit and look at the big picture. We did that with Neil a couple weeks ago. We allowed him to recharge a little bit mentally. He's had a couple really good bullpen sessions and had a nice quick one inning in a game recently. You can see the confidence coming back. He mixed all of his pitches today."
Ryan's first real trouble came in the bottom of the seventh when he walked the first two hitters of the frame. Dupic then called on lefty Josh Prater, who got the Bulldogs out of trouble by inducing a fly out, pop out and ground out to leave the bases loaded.
In the win, Concordia simply leaned upon Ryan's right arm and then waited for Doane (21-19, 6-10 GPAC) to kick the ball around. The Tigers obliged with five errors in game 2. The Bulldog lead bulged from 3-0 to 5-0 in the fourth when Kaleb Geiger's 3-2, two-out dribbler to first baseman Aaron Whitehouse was misplayed, allowing both Alex Alstott and pinch runner Johnny May to score. The fourth inning also included a bases-loaded walk drawn by Casey Berg. Somehow Concordia managed to tally three runs without a hit.
The Bulldogs put up only four hits in game 2 – two coming from designated hitter Christian Montero, who drove home Alstott with an RBI single in the top of the first. Montero was also part of an odd double steal in the third. On the play, Montero was credited with a steal of second and Berg raced in from third in a swipe of home with two outs.
Game 1 featured a nightmarish third inning during which Doane sent 14 batters to the plate, collected eight hits and tallied 10 runs. The Tigers feasted upon Concordia pitching as six different hitters notched multiple hits. Four of them drove in exactly two runs. Dupic quickly hooked starter Ben Kruse, who was charged for three runs (all earned) on four hits in two-thirds of an inning. On the other side, Tyler McKee spun a four-hit, seven-inning shutout.
The game 2 victory snapped a 15-game series losing streak against rival Doane. A perennial GPAC contender, the Tigers are fighting for their postseason lives. They are currently in ninth place. Eight teams advance to the GPAC tournament (May 5-7).
The Bulldogs will step outside the conference for the final time during the 2016 regular season when they visit Grace University (0-20) on Monday. Concordia swept a doubleheader from the Royals by scores of 11-0 and 21-4 when the two teams met back on March 20.